Do you know where you're heading in your professional journey?
Like any seasoned traveler, you need a map. And that map is an individual development plan (IDP).
The individual development plan charts the course to your desired career goals. It should align with your values, ambitions and the person you want to be in and out of the office.
As a leader — or a future leader — consider this IDP guide and template as a sort of secret weapon in your path to greatness.
Are you ready to create your ideal IDP? One that resonates with who you are and where you want to be?
Let's dive in.
Key Takeaways
An individual development plan is a valuable tool to help you figure out your professional goals.
Having a well-crafted, thoughtful and actionable IDP brings great clarity, confidence and purpose, giving that extra bump you need to start making big moves in your career.
What Is an Individual Development Plan?
An individual development plan (IDP) is a roadmap that outlines where you want to be and how you can use your strengths, skills and potential to get there.
It's your tool for setting and achieving those small, meaningful goals that build into the bigger picture of who you are as a person, both personally and professionally.
Download Your Free Individual Development Plan Template
The 4 Components of an Effective Individual Development Plan
No two plans are the same (nor should they be).
But they all share a common structure, with four key components:
Career goals
Strengths and personality traits
Areas for growth
Action plan
Let's break them down, and I'll share some tactics along the way to help you write an actionable plan that you can use to become a truly great leader.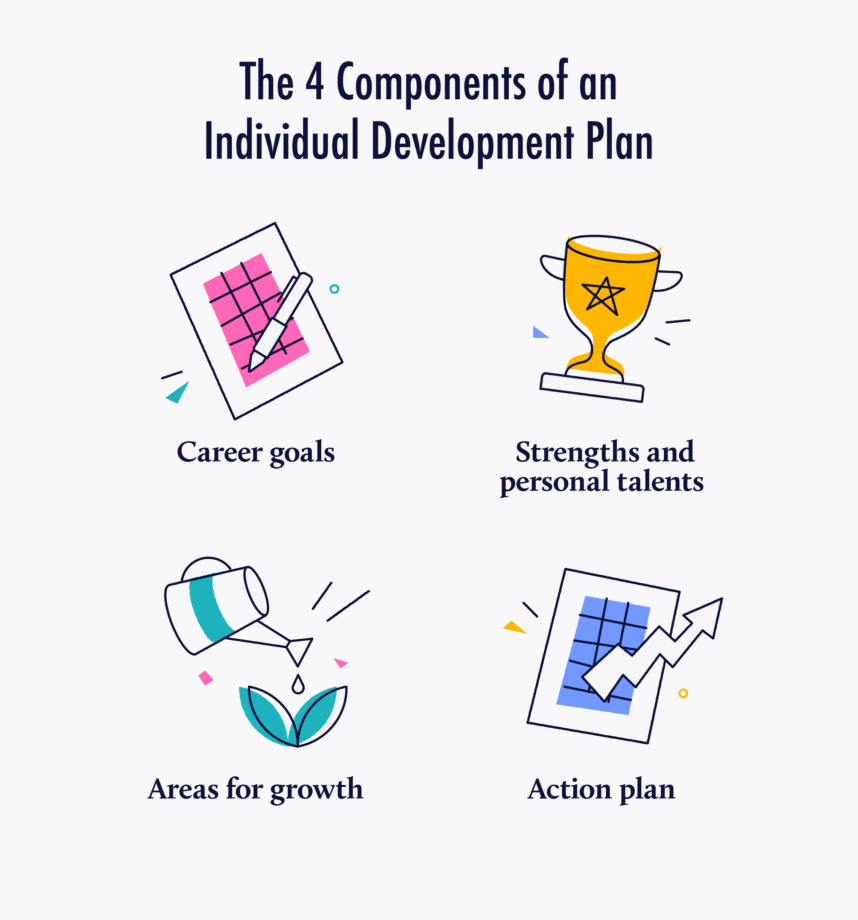 1. Career Goals
Your career goals should align not only with who you are right now but also who you want to become.
Be ambitious. Reach for a future that feels outside of your comfort zone. After all, that's where the real growth happens.
If you're uncertain about your goals, don't worry. Start by asking yourself a few questions:
What am I passionate about, and how can that translate into my professional life?
Where do I see myself in 5, 10, or 15 years?
What are my core values, and how can I align my career goals with them?
How can I use my skills to help those around me?
These questions give you a foundation for setting meaningful goals.
When the ideas start to flow, consider using the S.M.A.R.T. model to make some sense of them.
Your goals should be:
Specific
Measurable
Achievable
Relevant
Time-bound
Start small and work your way up from there.
Each little victory is a vote for the person you are becoming, and those little victories snowball into something great if you remain consistent and focused.
2. Strengths and Personal Talents
You have unique strengths and talents that make you an asset.
And if you're not quite sure what they are, that's okay.
Part of personal growth is learning to recognize and build on your own strengths, even if they don't seem "traditional."
With that in mind, think about these questions:
What am I good at?
When do I feel fully engaged?
What activities make me feel a sense of purpose?
What am I doing when I feel most "myself"?
Listing your strengths (no matter how small or large) helps you understand where you can make the most significant impact.
3. Areas for Growth
Acknowledging areas of growth isn't a sign of weakness.
It's a testament of your commitment to achieving excellence.
This portion of the IDP can be uncomfortable, but remember, true growth comes from deep introspection (daily journaling can be helpful with this).
Here are some excellent reflective questions to ask yourself:
What professional skills do I wish came more naturally to me?
What habits, fears or insecurities are preventing me from doing what I want to do?
How do I respond to stress or pressure, and how can I improve this response?
How well do I manage my time, and how can I optimize it?
How effective am I at listening to others, and how can I enhance this skill?
How well do I accept and act on constructive feedback?
In what ways do I step out of my comfort zone, and how can I do this more often?
How consistently do I align my actions with my core values, and how can I improve this alignment?
These questions help you identify areas of growth and visualize your "best" self. Being clear on those two things enables you to create an action plan that gets you there.
4. Action Plan
James Clear, the author of Atomic Habits, says, "Goals are good for setting a direction, but systems are best for making progress."
The action plan is the system that helps you accomplish your goals.
Here's an outline for an action plan that works:
Define your objectives: This is your "why." What are you looking to achieve? These objectives should be closely tied to your career goals and areas for growth.
Outline your tasks: Now it's time to look at the "how." How will you achieve these objectives? Break down the steps, tools or support you need to complete your objective.
Set success criteria: The success criteria are your "what." What will it look like when you've successfully achieved your objectives? This is how you measure progress, and it's important because it helps you stay on course.
Establish a time frame: Finally, the "when." When do you aim to accomplish each task and ultimately meet your objectives? Be realistic yet ambitious with your time frames. Giving yourself deadlines creates a sense of urgency and keeps you motivated.
The beauty of this system is its simplicity and clarity.
You know what you're working toward, how you're going to get there, what success looks like and when you plan to reach your goal.
This is how you turn direction into progress.
Individual Development Plan Template
Now that the gears are turning, let's put everything together.

I've created an IDP template that combines everything we've covered so far.
Download Your Free Individual Development Plan Template
The template includes a few sections:
Name
Date
Focus area of individual development
Professional goals and aspirations
Strengths and personal talents
Areas for growth
Action steps
Schedule
Once you've filled out the template, keep it somewhere visible so it stays top of mind. Tape it to your desk. Attach it to your computer monitor. Place it on your bathroom mirror.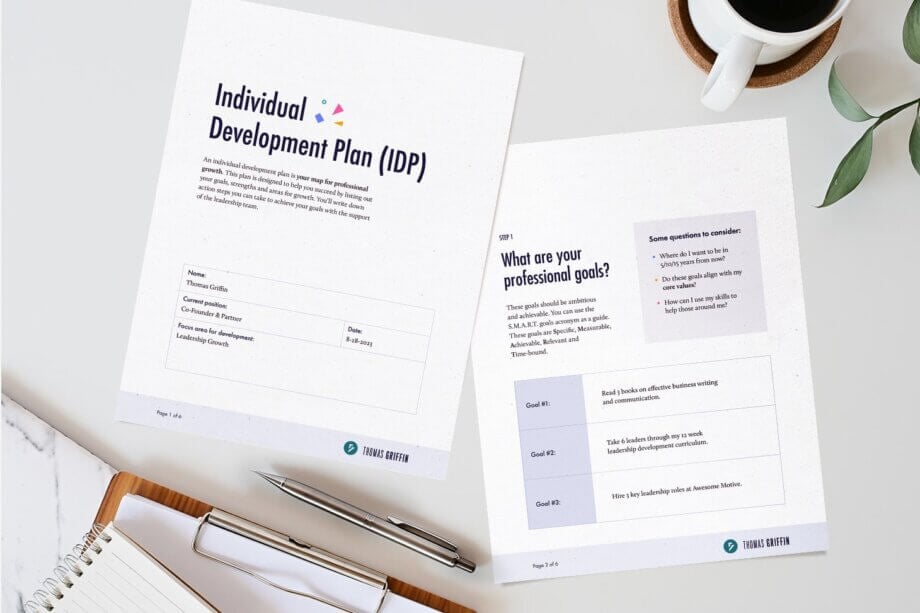 Download Your Free Individual Development Plan Template
It can be daunting to create an IDP from scratch, so I've uploaded my own to give you some ideas.
View My Own IDP
Committing to growth is difficult, but with a clear roadmap for success, you'll find it's easier to take steps than you realize.
And here's a bonus…

Once you start walking down your own path to growth and fulfillment, you can share this template with your team and spread the culture of growth within your organization.
How to Use IDPs to Help Your Team Grow
Lack of career development is the #1 reason people quit their jobs.

No one wants to feel like they're stuck on a treadmill with no forward progress or direction.

But you have the power to change that.
Here's how you can implement IDPs within your team:
Introduce the concept: Launch the idea in a team meeting. It could be an all-hands or a video call. The important part? Make it interactive. Explain the "why," answer questions and spark enthusiasm.
Schedule one-on-ones: Follow up with individual meetings. Offer guidance, and help each team member start plotting their path. This is a chance to understand each person's ambitions and potential growth areas more deeply.
Lead by example: Share your IDP with the team and demonstrate your own commitment to growth and excellence. This encourages a culture of ongoing improvement and reinforces that you're in this together.
The result? An empowered team, an invigorated work environment and a culture that values progress — all thanks to the power of IDPs.

To your pursuit of growth,
Thomas

At Awesome Motive, the pursuit of excellence is what fuels us. We don't just aim to reach our goals — we strive to exceed them and redefine what's possible. If you're someone who isn't satisfied with "good enough", discover some of the awesome careers we have available right now.