Back in the day, even the best navigators needed a compass.
Nowadays, our compass might be a bit more metaphorical.
But the idea stays the same.
Even the best leaders benefit from having a guiding force.
Fundamental beliefs are what guide your decisions, behaviors and attitude – in both your personal and professional life.
I've assembled a core values list with 71 values that can help guide you on your path toward developing your leadership style and discovering your "why."
Key Takeaways
Core values are the fundamental beliefs that guide your attitudes, behaviors and decisions in life and business.
Core values are important because they help define who you are, motivate you to take action and shape your identity.
To find your core values, reflect on your past, consider what motivates you and makes you feel alive, and think about what you truly stand for.
What Are Core Values?
Core values are the guiding principles that shape your actions, behaviors and decision-making.
They are what define us as individuals, representing our fundamental beliefs and ethics.
By identifying and embracing your core values, you create a solid foundation that reflects your vision and goals.
And they're essential for your organization as well.
Core values can benefit your organization by:
Giving everyone a shared language and understanding of the organization's purpose
Establishing the culture of the organization and setting expectations
Helping identify the right people to join the team who will be able to contribute to the mission
Providing direction during difficult situations or changes within the organization
Think of them as the backbone of your organization or personal brand, providing the framework for growth and accountability.
List of 71 Core Values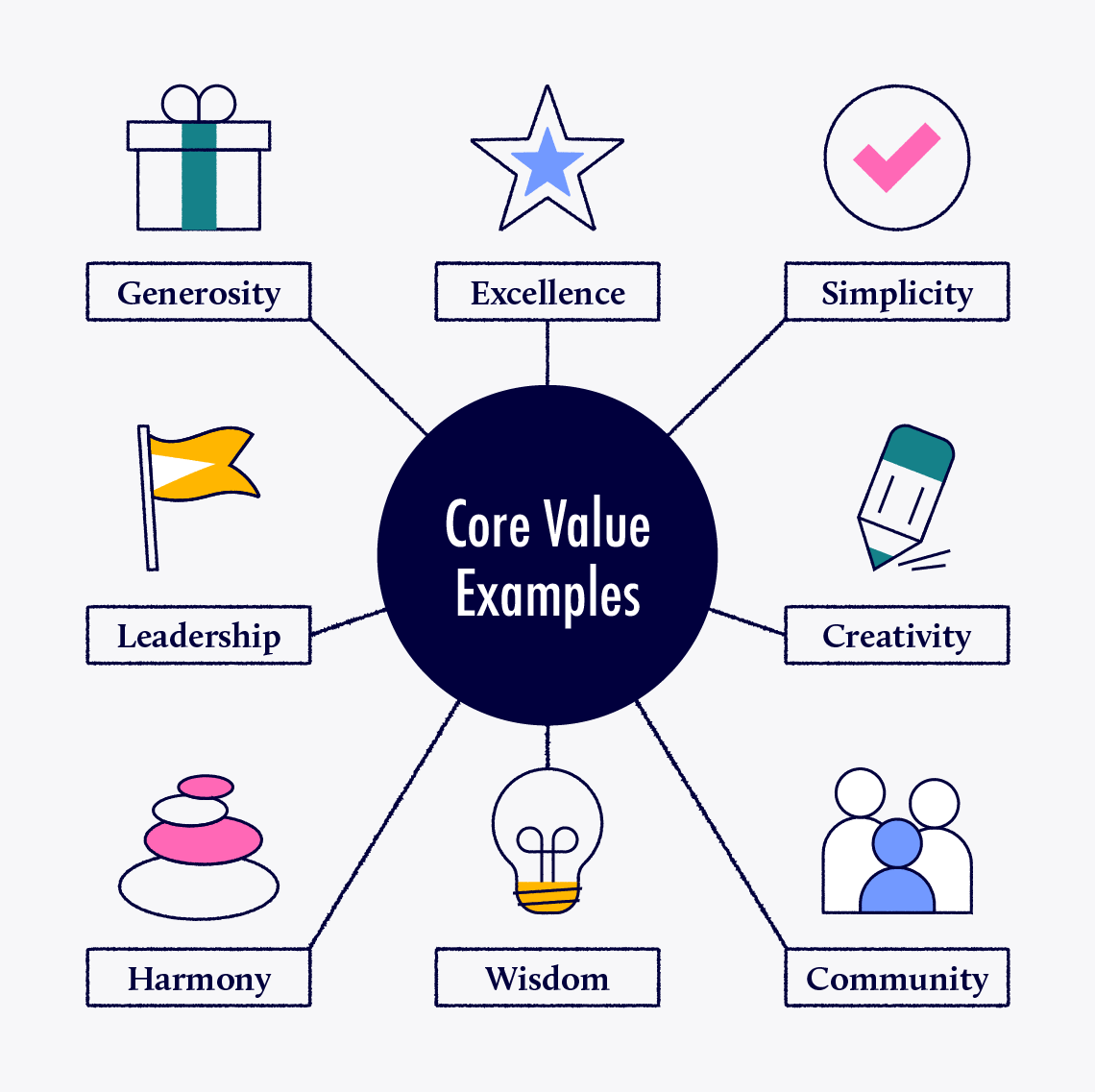 Core values encompass a wide range of characteristics. It's important to consider different perspectives when selecting core values for yourself or your organization.
This list can help you explore different types of values and determine which ones are most important to you.
Download Your Free Core Values List
Personal Growth
Accountability
Authenticity
Bravery
Candor
Clarity
Commitment
Competency
Consistency
Courage
Creativity
Decisiveness
Determination
Ethics
Excellence
Flexibility
Forgiveness
Honesty
Integrity
Relationships and Community
Altruism
Community
Compassion
Empathy
Friendliness
Generosity
Gratitude
Helpfulness
Kindness
Peacefulness
Politeness
Strong relationships
Respect
Responsibility
Service
Trustworthiness
Unity
Leadership and Vision
Adaptability
Authority
Boldness
Hard work
Humor
Initiative
Influence
Innovation
Inquisitiveness
Knowledge
Leadership
Learning
Loyalty
Open-mindedness
Patience
Perseverance
Vision
Wisdom
Health and Harmony
Balance
Dependability
Diversity
Equality
Fairness
Growth
Happiness
Harmony
Healthy living
Optimism
Positivity
Safety
Simplicity
Stability
Success
Teamwork
Well-being
No matter what type of values you choose, they should be rooted in integrity and self-reflection. This list of core values is a great place to start exploring and finding the ones that resonate with you the most.
How to Identify Your Core Values
Knowing who you are, what you stand for and what's important to you can help you make decisions that align with your beliefs and bring you closer to your goals.
Here are five steps that will help you identify and define your core values:
Step 1: Reflect on Your Past
Self-reflection is essential to discover your core values.
Think back to a time when you felt truly happy and fulfilled. What were the circumstances? Were you alone or with others?
Recall a moment when you felt proud of yourself. What did you achieve? Why was it important to you?
Remember a time when something really bothered or upset you. What was it about that situation that was so difficult for you?
Incorporating daily journaling into your routine can provide a structured way to engage in self-reflection, allowing you to easily identify how certain values manifest themselves in moments of happiness, pride or distress.
Step 2: Consider What Motivates You
Understanding your motivations can give you a glimpse of what truly matters to you.
From making a real difference in the world to engaging in meaningful personal growth, there's no shortage of goals that can motivate you to get out of bed each morning.
Here are some things to consider when thinking about what drives your work ethic and ambition:
Are you focused on self-improvement?
Is connecting with others important?
Do you strive for greatness?
Are you mindful of wellness?
Take a moment to ask yourself why certain activities and hobbies hold more interest and importance than others.
This could indicate where your values lie, paving the way for more holistic decision-making.
Step 3: Ask Yourself the Tough Questions
To find what matters, sometimes you have to dig deep. Asking yourself tough questions is an important step in understanding your core values.
Take a moment to reflect on these questions and answer them honestly:
What do I stand for? Think about this in terms of your personal ethics and morals.
What do I believe in? Is it something greater than yourself or an ideal you'd like to champion?
What am I willing to fight for? Is it a cause you care deeply about or a situation that needs change?
What am I not willing to compromise on? There might be certain lines you never want to cross — think about what those are.
What legacy do I want to leave behind? Consider the type of person or leader you'd like to be remembered as when your time is up.
What would I do if there were no limitations? Imagine a world without restrictions. What would you pursue with wild abandon?
By answering these questions thoughtfully and truthfully, you can gain insight into what really matters most to you.
Step 4: Narrow Down Your List
Once you have a better understanding of what makes you tick, it's time to map out your core values.
Put together a brain dump that reflects all the things that matter to you. It will likely be long, but don't worry about being too selective at this stage.
Go through your list, checking off anything that doesn't feel right.
Group together similar-sounding values to help you draw connections between them and see patterns in your list.
By actively editing down your values as you go, you can begin to focus on what truly matters and make sure each core value resonates with you.
Step 5: Commit to Those Values
Once you've narrowed down your list of core values, it's time to commit. Be sure your values are visible wherever you go, whether that's a poster on your wall or a note on your steering wheel. Personally, I stick a copy of my core values on my bathroom mirror.
Make more decisions based on your core values each day so they become integral in both your actions and mindset.
Seek out people who share similar values. Effective communication with like-minded individuals will keep you inspired and motivated.
Align your goals and aspirations with what matters most to you, so that any progress you make is in line with these values.
Periodically reevaluate if your actions are reflecting the values that truly matter to you, and make adjustments as needed.
By committing to those core values and keeping them top of mind, it allows for easier decision-making that puts long-term fulfillment before short-term gains.
Download Your Free Core Values List
My Core Values
After identifying your core values and building on them, it's time to put them into action.
Writing a mission statement for both yourself and your organization can help hold you accountable to those values, giving you a purpose-driven life that aligns with what matters most.
My personal mission statement is: "To magnify the power of the One True God by humbly embodying clarity, simplicity, and excellence in every area of my life."
My core values help me stay grounded in my personal and professional life.
At Awesome Motive, we've set our core values to provide guidance in difficult decisions, act as an anchor when times get tough and foster an aligned team that pursues the same goals.
Here are our values:
Put people first
Do the right thing
Fight for customer success
Commit to excellence with attention to detail
Labor for simplicity
To finding your why,

Our pursuit for excellence drives everything we do at Awesome Motive. If you want to be a part of a team that strives for nothing less than the best, head to our career page to see our current job openings and apply today.