Why greatness? What is it about the word that fascinates both you and me?
Everybody wants to be great at something. If they tell you otherwise, they are lying.
When you are kid, you dream of being a firefighter. You dream of being a weatherman. You dream of being an astronaut.
But you aren't just any firefighter, weatherman or astronaut. You are the greatest of them all.
So what does it take to make that dream a reality?
I've often thought upon that question: what does it take to be great at something?
I think we all experience moments of greatness. You crush an important exam. You successfully launch a project. You get out of debt.
But nobody looks at those experiences and then ascribes the label of greatness to you. It's just what it is – a moment, here and gone.
So if moments do not merit the label of greatness, something else does.
I think you could define greatness in any of the following ways:
Repeated goodness. It takes work to be good at something. It takes consistency to be repeatedly good at something. Repeated goodness over time produces greatness.
Persistent excellence. Excellence is a mindset that produces better than average results. Persistence in excellence means you produce better than average results far longer than average effort. Persistent excellence over time produces greatness.
Patient faithfulness. Patience is a capacity to tolerate otherwise tenuous circumstances. Faithfulness is remaining loyal to the work in front of you regardless of circumstances. Patient faithfulness over time produces greatness.
Each of these inputs – repeated goodness, persistent excellence, patient faithfulness – tend to produce a steady stream of great outputs. But great outputs aren't enough.
Time is the necessary component to transition from a moment of great outputs to a state of great outputs (greatness).
But time multiplies and compounds in a non-linear fashion. The great paradox is that when the label of greatness is first ascribed to you, you won't feel great. The amount of time invested will appear to be inadequate to the time necessary to become great.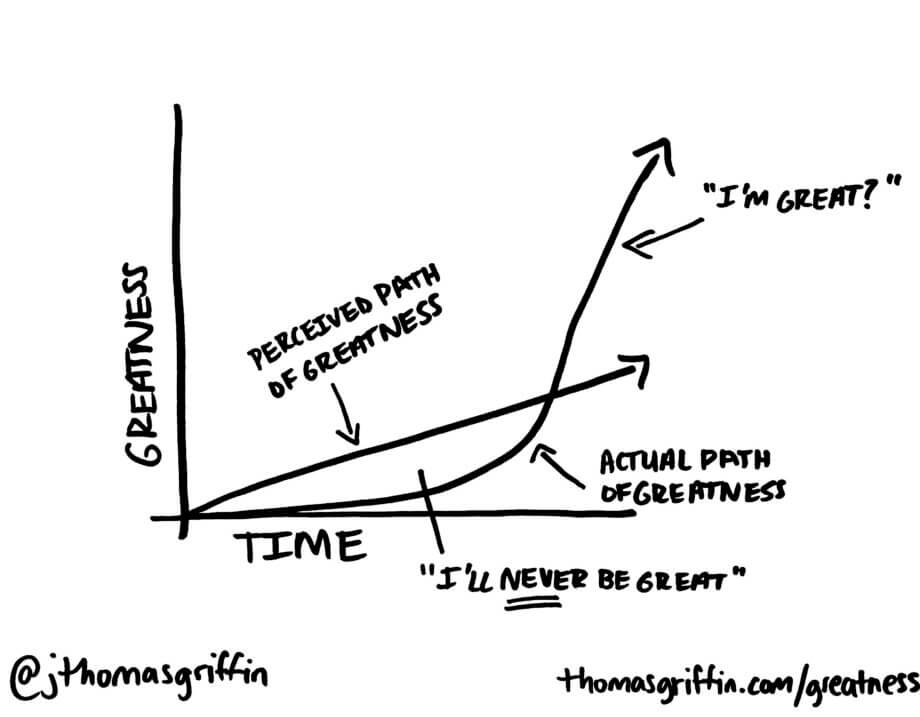 Because of this reality, time must have its full compounding effect. But how do we know when that has occurred?
That's a hard question to answer. Each situation looks different, but I think a general principle tends to hold true. When compounding has begun, we must abide by the first rule of it (as defined by Charlie Munger):
The first rule of compounding: Never interrupt it unnecessarily.

Charlie Munger
When you realize compounding is occurring and actively acknowledge it with the words, "Don't screw this up", you are likely on the path to greatness.
It is at this point that those inputs – repeated goodness, persistent excellence, patient faithfulness – and associated great outputs are at least noticeable to you and probably noticeable to others too.
I don't know that I've lived long enough to attain the greatness label in anything, but I do know this:
I want my inputs to put me on the right trajectory, and when I realize the pattern of greatness beginning to unfold, I want to tell myself repeatedly, "Don't screw this up".
To a lifetime of pursuing greatness,
Thomas