Don't we all wish there were more than 24 hours in a day?
While adding more hours to the day may be impossible, accomplishing 25% more in the time you do have isn't as hard as you might think.
In fact, business leaders waste on average 21.8 hours per week on activities that add little-to-no value to their business.
That's about 4.36 hours per day!
Where is that time going? Unproductive meetings. Responding to emails. Putting out other people's fires. Social media rabbit holes.
Whether you're a busy professional, an entrepreneur, or a student, managing your time effectively can make all the difference in achieving your goals and living a more fulfilling life.
In this guide, I'll explore 14 time management strategies to help you become more productive, efficient, and fulfilled.

Let's dive right in!
Key Takeaways
Time management is a skill, and it takes time and practice to find what works for you.
Consider breaks and build extra time for tasks into your schedule so unforeseen obstacles don't disrupt your week.
Be open to making changes when a new strategy isn't working for you.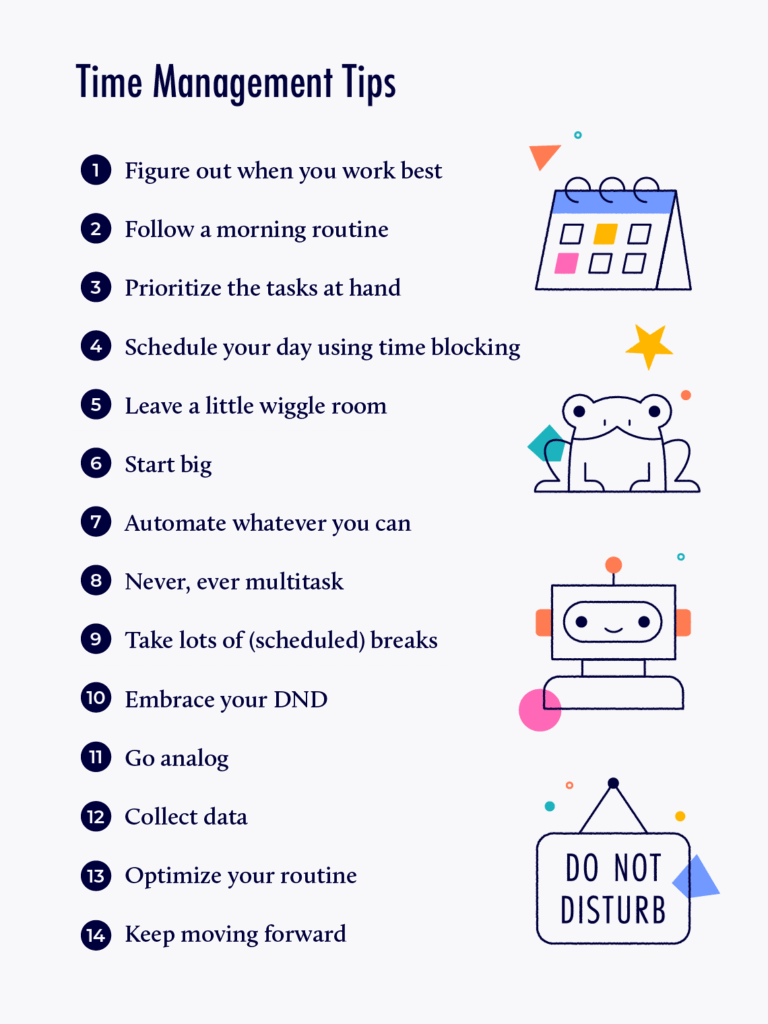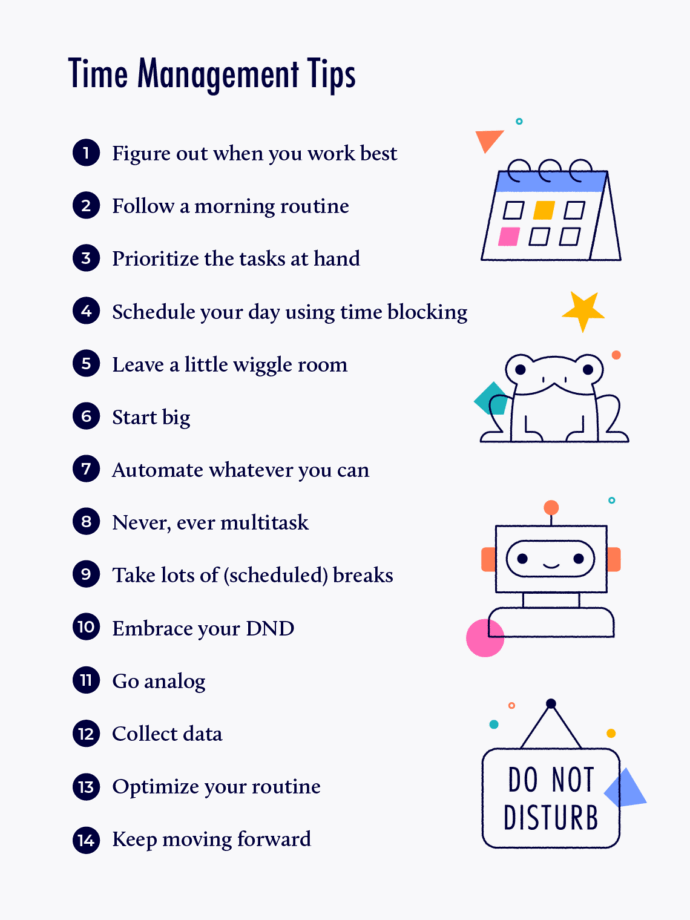 1. Figure Out When You Work Best
It's easy to fall into daily routines that don't actually work for you. Although a nine-to-five work schedule is the standard, it doesn't work for everyone.
Some people wake up bright, bushy-tailed, and ready to tackle anything by 6a.m. Others struggle to leave bed before 10.
Odds are you'll find that your productivity skyrockets if you work with your body's natural rhythm instead of fighting it.
Pay attention to how you feel in the morning, afternoon, and night, and notice how your motivation changes throughout the day. For example, many people identify with one of the four sleep chronotypes to describe their ideal workflow:
Lion: Most productive in the early morning
Bear: Most productive in the mid-morning to afternoon
Dolphin: Most productive in the afternoon
Wolf: Most productive late at night
Take note of how you feel throughout the day and when you focus best.
Do you wake up ready to tackle your biggest problem? Does your brain need some time to wake up as you sip your coffee? Do you hit a lull after lunch?
Once you identify your own patterns, you can schedule your day accordingly and be your own leader of your time.
Why it works: Research has shown that different people naturally function best at different times based on their chronotypes. Learning when (and how) you work best helps you put your most important tasks during those focus times and leaves lighter to the times where you're not as focused.
2. Follow a Morning Routine
Routines are the easiest hack to help your brain transition between work and play mode (or parent mode).
It takes an average of 66 days to build a habit, so I always start small. You'll rarely see through a drastic change for long enough to make a habit, so work backward from the goal you'd actually like to achieve.
Start small with your routine. Maybe start waking up five minutes earlier to stretch or make your bed. A morning routine sets the tone for your day, helping you reinforce and create some work-life balance.
Why it works: Morning routines help create a routine for work, too — you get into the habit of maintaining your workflows. Research shows that disrupted morning routines negatively affect workers' sense of calm and their energy levels.
3. Prioritize the Tasks at Hand
When your to-do list is constantly growing, it gets more and more difficult to decide which tasks to handle first. If you're like me, you're constantly trying to prioritize tasks based on deadlines and complexity while making sure you still have time to work on the important but not urgent tasks.
Try out a system like the Eisenhower Matrix, which helps you consistently prioritize tasks so you can spend less energy organizing your tasks and more time checking them off.
The matrix looks like this:
| | | |
| --- | --- | --- |
| | Urgent | Not Urgent |
| Important | Do now tasks | Schedule out tasks |
| Not Important | Delegate tasks | Delete tasks |
So how can you actually use this matrix? Take these example tasks:
Create next week's call agenda: This task is urgent but doesn't need to happen right now — schedule it out.
Organizing your email inbox: This task isn't urgent or important — delete it.
Submit financial reports: This task is urgent and important to get this done — do it now.
Ordering office supplies: This task is urgent but not important — delegate it.
Whenever a new to-do comes across your desk, add it to the matrix. This keeps the micro-tasks that appear throughout the week from piling up so you can get more done.
Why it works: The Eisenhower Matrix sets up a consistent frame of thinking about tasks. You're less likely to get caught up in time-consuming micro-tasks that are ultimately unimportant.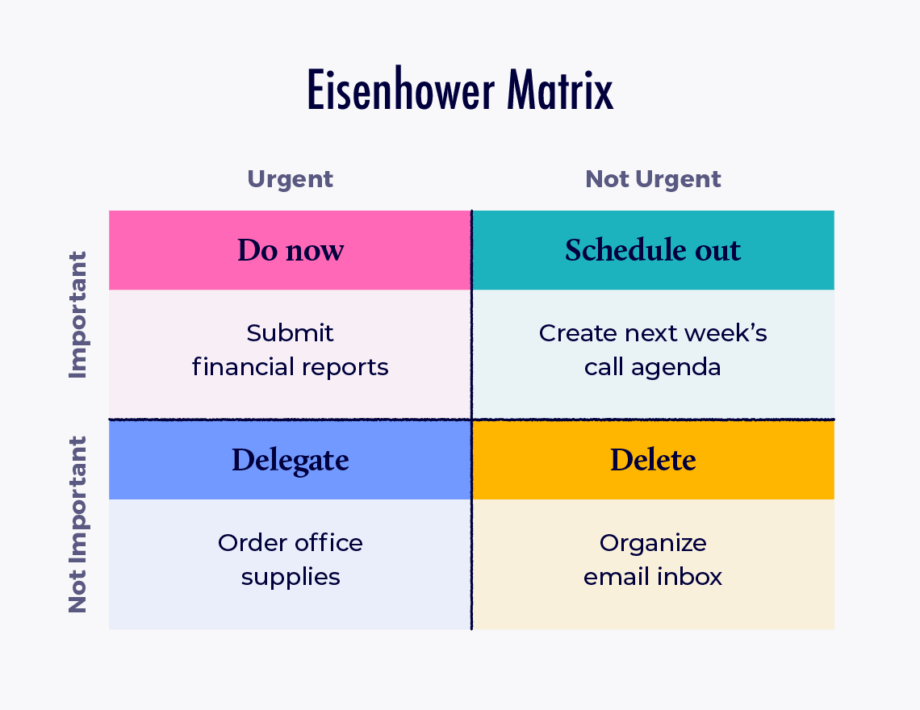 4. Schedule Your Day Using Time Blocking
Have you ever gotten stuck in deep focus mode only to look up and realize you've finished one thing but spent way too much time on it and are behind on the rest of your to-do list?
It's happened to me more times than I'd like to admit.
Time blocking is when you break up your day into chunks of time where you're scheduled to complete specific tasks. Make sure you're blocking off enough time for each task and add some padding to account for any unavoidable distractions.
Don't forget to give yourself a break too!
I like using the Pomodoro Technique to ensure I've got enough breaks in my day to maintain enough energy to complete as many of my tasks as possible.
So how does the Pomodoro Technique work for breaks?
1.) Work for 25 minutes distraction-free
2.) Take a 5-minute break
3.) Repeat steps 1 and 2 three more times
4.) Take a 15–30-minute break
5.) Repeat until your day is done
It takes some adjusting to working like this, but you'll be way better off long term when you can work through your tasks without being exhausted at the end of the day.
Why? You'll have more energy and presence for family and friends..
Why it works: Time blocking guides your focus so you know you can recenter yourself when you find your mind wandering.
5. Leave a Little Wiggle Room
If you're consistently spending more time on tasks than you've scheduled, don't hesitate to add some extra time in your schedule. There will be some days where you struggle more with focusing than others — it happens!
If you schedule miscellaneous time to cover for any emergencies, you'll end your day on time or with a bit of extra time (rather than having tasks bleed into the next day).
Why it works: There will always be a task that takes longer than expected or a distraction you can't ignore. Buffers in your schedule allow for this, so you don't need to redo your schedule every time something out of your control occurs.
6. Start Big
There's no better way to tackle your day than to address your hardest task first. You might have heard the phrase "eat the frog."
Essentially, when you start your day with the most difficult task — aka the frog — your day can only get better.
It's easy to struggle with this one — especially on a Monday or if I'm low on sleep. But the rush from knowing that you've tackled what's most important before lunch is unmatched as you sail through your easier to-dos later.
Why it works: When you focus on your biggest task first, then you're focusing your energy on where it matters most. Even on days when you lose momentum, you'll have maximized your potential productivity by working toward your most important goal.
7. Automate Whatever You Can
Tech can't do everything for us, but prioritizing time management means letting automation take care of what it can for you.
Invest in tools that can handle tedious or repetitive tasks, so you have fewer distractions and can focus on what matters most.
Wondering what you can automate today to test this out? Try these out:
Set up email filters (one of my favorite automation hacks)
Use recurring meetings to time block your calendar
Schedule out emails and use templates
If you're willing to invest in automation, there are software options like Zapier or Uncanny Automator that will help make your life easier. Automation software can:
Automatically organize your workflows and manage tasks
Generate important documents from templates
Synchronize key data and meetings across teams
Assign projects to users automatically as they progress
If you're not sure where to start with automation, take a second to review your tasks for the week and pay special attention to any quick micro-tasks you need to do.
Next, categorize these tasks into communication, scheduling, project management, and organization.
From there, you can start researching which software (or free!) tools can help you streamline your day.
Why it works: Repetitive tasks are easy but usually take up a good chunk of your day. Automate where you can to make fewer mistakes and free up time for high impact tasks that you can't automate.
8. Never, Ever Multitask
I get it: Multitasking is so tempting when you have a lot to do. After all, isn't it just maxing out your productivity?
I wish it worked that way, but the answer is no.
Give your full attention to your blocked task before moving to the next one.
If you find yourself being distracted by other tasks — whether they're related to work or your personal life — keep a notebook down so you can jot them down and return to your main task.
Why it works: Studies show that when you multitask, not only do you work slower, but you also make more mistakes. In the end, if you're multitasking, you're wasting your time.
9. Take Lots of (Scheduled) Breaks
Grinding away all day might feel productive in the moment.
But when you're burnt out, you'll find yourself unable to get anything done at all.
Getting stuck in that grinding cycle isn't good for your work or mental health. Everything's good in moderation — work included. Throughout your day, make time for a quick walk, coffee break, or to read a chapter of a book.
If you struggle with taking breaks, build them into your schedule so you actually take them (even if you feel like you don't need it in the moment!)
For a while, I would just try to power through my day, saying I'd take a break when I finished my work. Once I became more proactive about taking the breaks I scheduled, I'd end my work day feeling less tired and more available and present for my family.
Everyone has limits, no matter how effective they are at their job. I find that stretching and finding other ways to move on my breaks is extra important to keep my brain and body happy and healthy.
Beyond this, taking breaks is important because they foster a workplace where people feel empowered to take breaks. This improves employee retention – and everyone is happier in general!
Why it works: Scheduling out your breaks makes you more likely to take them and sets healthy boundaries that prevent burnout.
10. Embrace Your DND
It's no secret that your phone and its constant stream of notifications are a major drain on your productivity.
Turn off notifications for unnecessary apps and don't be afraid to use the "Do Not Disturb" (DND) setting.
You can typically schedule DND during work hours. You can even send out auto-replies so people know you're focusing on your work.
Popular communication apps like Slack have similar features, so make sure you set your preferences across communication channels.
Set clear boundaries and expectations for when people can reach you. Block time off in your calendar for deep work to let people know when you're in the zone and that you'll get back to them when you can. This is important for setting expectations early when you're reachable vs. not working.
Why it works: Constant pings and notifications create distracting background noise — even if you think you're a pro at leaving them for later. When you turn off notifications, you're less likely to lose your attention to the task at hand.
11. Go Analog
Phones can be great tools to help with work, but social media and other apps are just too tempting.
Put the phone down and go the old fashioned route for distraction-free tools.
A traditional stopwatch, timer, notebook, or calendar can help you keep yourself on track without bringing extra distractions into your workflows.
To be honest, to me there's nothing like the satisfaction of checking off a task on a piece of paper.
(This also helps you cut down on screen time without slashing productivity)
Why it works: Timers and alarms on your phone can work, but it may be tempting to check Instagram while you're checking the time. Analog tools like physical timers and calendars serve their purpose without the temptation of social media.
12. Collect Data
Reflection is a key part of managing your time efficiently and boosting your productivity. But when you're in the zone, you might forget to reflect on how your day went until it's too late and the details are fuzzy.
At the end of the day, take a few minutes to write down everything you did (bonus — this reinforces a daily journaling routine). Alternatively, you can build this into your workflow and jot down a quick note about how focused you were during the project while it's still fresh in your mind.
Once you have a few days of notes, review them for any patterns and spot any new strategies that aren't working before you waste too much time on them.
Why it works: It's important to reflect on your own performance and workflows. If you're in touch with how your time management strategies are working, you can identify when they're not working earlier and waste less time.
13. Optimize Your Routine
Just like a computer needs software updates, you'll need to revisit your methods every once in a while to see if they're working for you.
Your color-coded calendar might be working now, but in a few weeks, you could find that it's no longer serving your goals.
I'm still changing my time blocking routine nearly 4 years after I first implemented it!
When reflecting on your routine:
Keep what works: You know what they say about things that aren't broken (don't try to fix them!)
Ditch what doesn't: Don't hold on to strategies that aren't helping you achieve your goals. And don't be afraid to admit when they aren't working.
Incorporate new ideas: Did you find a new article about a scheduling strategy that boosts output? Give it a try! Be open to trying new things.
Out of ideas for how else you can improve your workflows? Collaborate with your team to pool ideas and find new strategies you wouldn't have thought of otherwise.
Why it works: People change all the time. As your habits, work expectations, and experiences evolve, so should your time management strategies.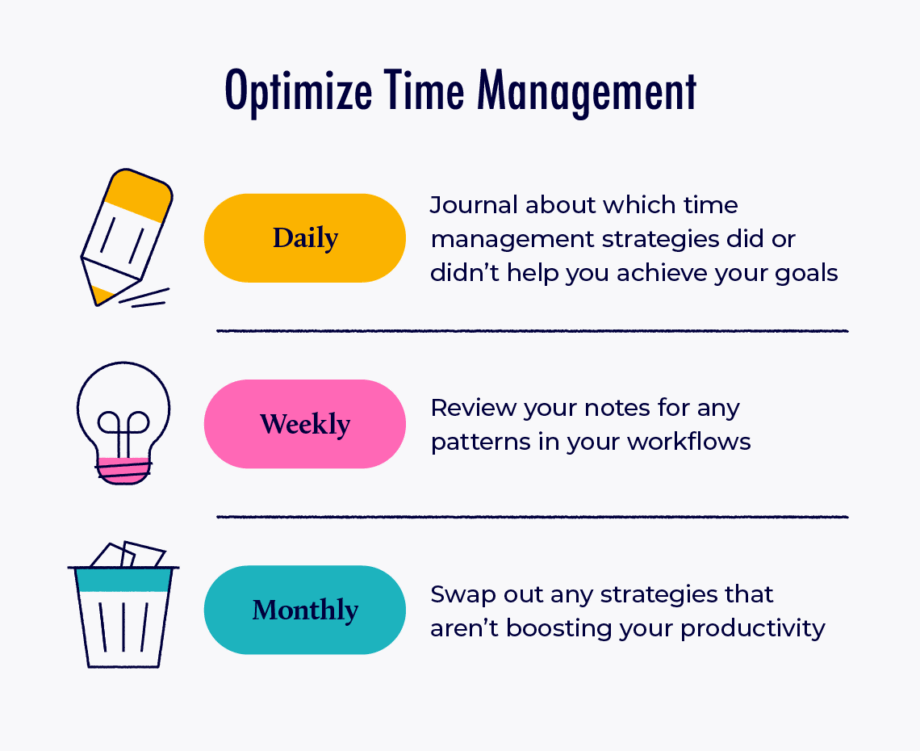 14. Keep Moving Forward
Last but not least, remember that progress toward your goals will never be perfect.
If you're constantly striving for something impossible, you'll run out of motivation — fast.
Take small, consistent steps in the right direction to help build momentum and celebrate the little wins along the way.
As I said before, experimenting to find time management strategies that work for you takes time, so start small and let the benefits snowball.
Why it works: It takes time to adjust to change. Don't give up if your first few routine changes don't work out. It took me nearly 6 months to find a time management strategy that worked well. There are endless ways to boost your productivity, and it's important to give yourself grace while discovering what works for you.
The Clock Is Ticking
Are you passionate about being the best you can be without sacrificing who you are at your core?
At Awesome Motive, helping small businesses grow and compete with the big guys is what drives us to work hard and smart each day.
If you're looking to join a company where the best get better, check out our careers today and join us on the mission.
To doing more in less time,
Thomas