When it comes to coaching vs. managing, the difference can be summed up in a simple question:
Are your employees being inspired or required?
While there will always be tasks that need to get done at your company, a great coach focuses on genuinely motivating employees to be their best — not just demanding results.
Coaching in managing is all about bridging that gap. It changed how I interact with my team, and I know it will change how you interact with yours.
Key Takeaways
Coaching and management are two different practices. One motivates while the other demands. 
Learn how to inspire employees to reach their full potential with these five effective coaching strategies.
Table of Contents
Managing vs. Coaching
While you may think managing and coaching are one and the same, they are actually very different. Good leaders may know how to manage, but great leaders know how to coach.
Wondering what the difference is? Let's take a look at how managers and coaches take different approaches to develop and communicate with employees.  
| | |
| --- | --- |
| Manager | Coach |
| Tells employees what to do | Helps employees discover what to do |
| Focuses on driving results | Focuses on driving results and personal growth |
| Sets short-term goals for employees | Has a long-term vision for employees  |
| Sees mistakes as unsatisfactory performance | Sees mistakes as development opportunities |
| Motivates employees extrinsically | Motivates employees intrinsically |
Approach
As for their approaches, managers focus on telling employees what to do while coaches focus on helping employees discover what to do. 
Managers oversee tasks, direct team members and maintain daily operations. Often, you can measure a successful manager by the results their employees produce.
Coaches, on the other hand, emphasize results along with developing employees' skills and abilities in line with their personal or professional goals. You can measure their success by their results and the impact on their employees' careers or lives.
Employee Development
When developing employees, managers are typically focused on hitting the goals or KPIs. They think short-term.
Since managers are responsible for performance and results, they may give employees necessary feedback for this year's projects — but it may not always lead to long-term growth.
Coaches, however, concentrate on their team's long-term personal and professional development. While it may take longer to understand an employee's strengths, weaknesses and goals, coaches see this as a worthwhile time investment.
Managers have a plan for today. Coaches have a vision for tomorrow.
Communication Style
Concerning communication styles, you can think of managers as the parent who says, "Because I said so." 
Coaches ask questions and explain why.
Managers issue directives — Here's the task. Complete it by this deadline. If your performance is unsatisfactory, I'll make a note in your annual review. 
Coaches use more of a collaborative approach and open communication style since their primary goal is growth, not simply task completion.
A coach may ask: What do you think? How would you approach this? What should we change?
Ultimately, managers extrinsically motivate their employees while coaches intrinsically motivate them. This is the difference between doing something because you have to compared to doing it because you want to.
5 Coaching Strategies for Everyday Managers
When it comes to good leaders vs. bad leaders, coaching can make all the difference — which is why it's a skill worth developing yourself.
Everyone has different personalities, and a good leader will know how to adjust coaching styles accordingly.
In the strategies below, I'll reference the Enneagram as a way to help you understand the coaching styles that are most effective for particular types of people. 
While the shift from managing to coaching won't happen overnight, your future self — and employees — will thank you for putting in the time and work.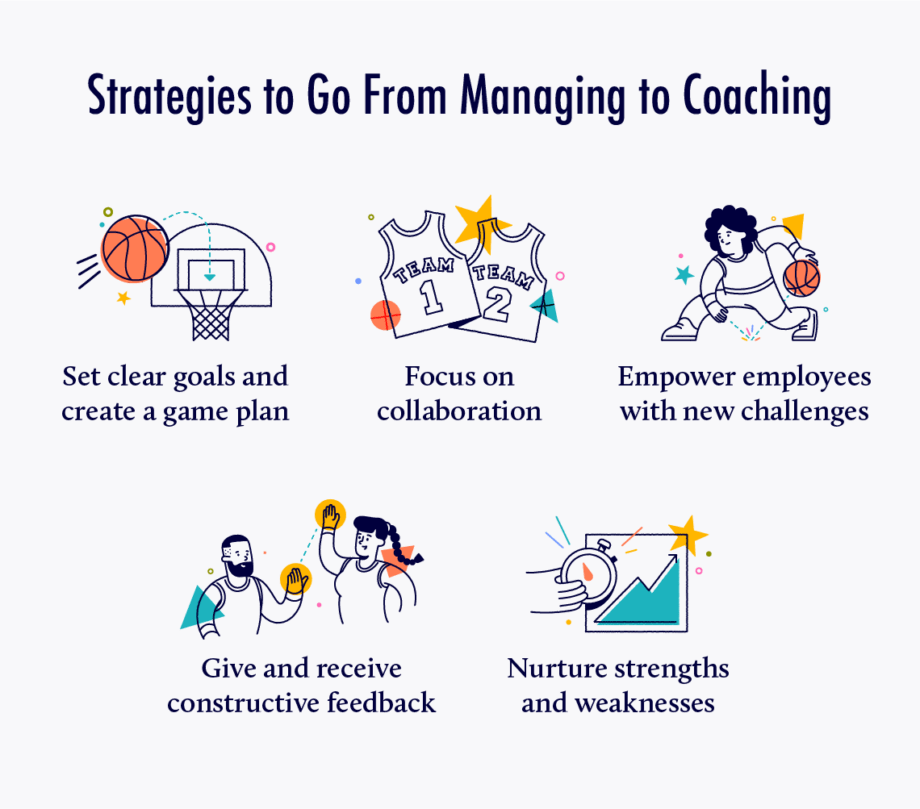 1. Set Clear Goals and Come Up With a Game Plan
One trait of great leaders is that they clearly communicate expectations. This gets the leader results and gives the employee confidence to achieve those results.
In fact, a Gallup survey in the book 12: The Elements of Great Managing asked about the factors that created a healthy workplace. The #1 response from employees was: I know what is expected of me at work.
So, be crystal clear with employees about what their role requires and what results you want.
Give your employees a voice in the conversation wherever possible. Set career goals together. Then, come up with a game plan together.
Make this plan as clear as possible. Include step-by-step micro goals that lead to bigger wins over time.
Invest in understanding your employees so they will respect you.
Personality Considerations
These employees are excitable and often have great ideas but may lack the discipline to fully complete tasks.
To ensure they stay on track and avoid distractions, present very clear goals with deadlines and milestones they can follow.
Remember to check back in to ensure they are clear on expectations since misunderstandings are frequent.
Helpers are warm-hearted and kind. They want to lend a hand to the team — even if it means they don't get their work done.
Show these employees you see them and appreciate them by thanking them for their contributions regularly. Avoid giving only negative or constructive criticism.
When communicating about tasks, focus on their impact and consequences. This helps these employees see where they're helping and where their "help" may be unnecessary.  
2. Provide Constructive Feedback Along the Way
Sharing constructive feedback is essential for the growth and well-being of your employees. After all, you don't know what you don't know, and neither do your employees.
So tell them.
Effective feedback is clear, specific, timely and catered to the employee. If someone is late to a video meeting, feedback can be as simple as: "Hey John – being on time is a value here. Please make sure you are on time for the next meeting."   
Remember to provide feedback on both their strengths and weaknesses.
Take it a step further by having an open-door policy so they can provide feedback to you. You aren't the only one who can inspire new growth in the relationship.
Not only can you learn from your employees, but you can also impact their careers — just by listening.
Almost 37% of employees have left a job because they didn't feel like their feedback toward superiors was taken seriously. 
An additional 20% hadn't left but thought about leaving.
So yes, tell them. But also listen.
Personality Considerations 
The Reformer is highly principled. These employees tend to be studious, organized and diligent — but they can also have rigid or perfectionistic standards.
This can lead to impatience or resentment, so be gentle with your feedback. Try not to spring important feedback on these employees without prior notice. They need time to mentally prepare.
Double down on praising their strengths. Since these employees can be hard on themselves, they need to hear praise often. 
These employees deeply want to excel and be successful. They love to-do lists and tend to adapt to whatever work you assign them — but they can burn out easily.
When giving them feedback, they prefer if you "give it to them straight."
Also, offer recognition for their contributions and accomplishments since they struggle with viewing themselves as failures.
Avoid telling these employees how to do things. They are good at figuring things out and will feel more competent and satisfied when they can. 
The Investigator (Enneagram 5)
Investigators are curious and love to learn new things. They can be excellent researchers, although you may see them as aloof or reclusive.
Be constructive in your feedback by presenting these employees with facts and objective data. Give them time to process the feedback and let them return to you with any further questions.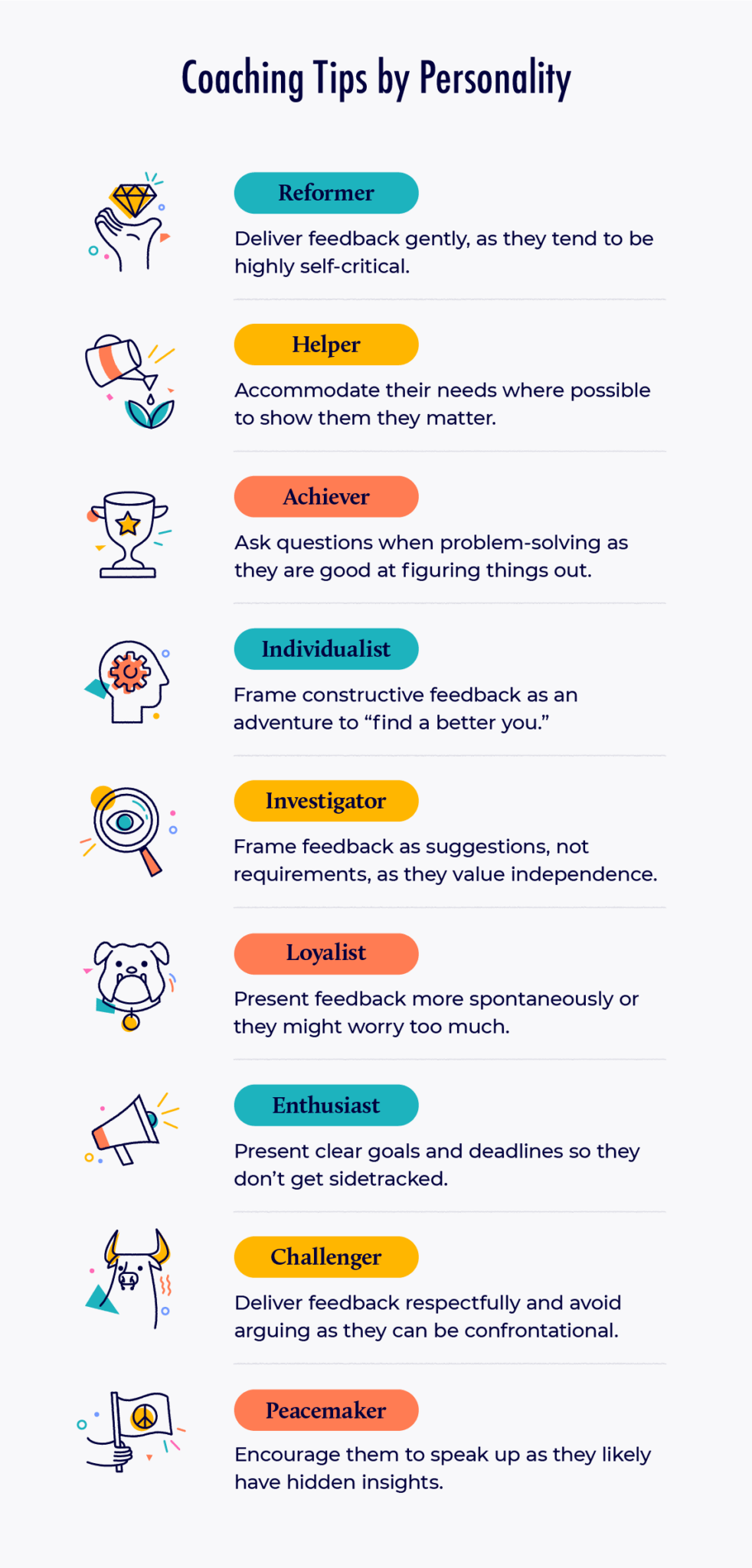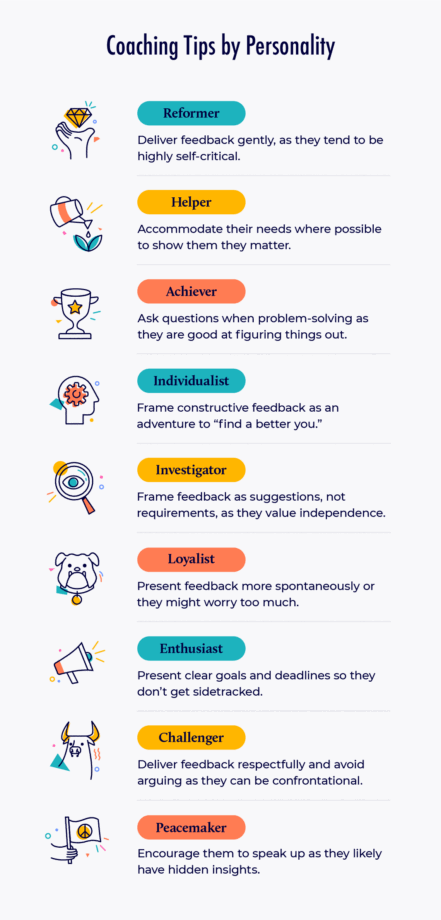 3. Identify and Nurture Your Employee's Strengths and Weaknesses
Whether you're new to leadership or are already an established coach, it's important to know where an employee naturally excels and where they need help to reach their goals.
So watch and learn! Jot down what you notice.
Ask your employees what they think their strengths and weaknesses are. Many people are highly self-aware. You can also use personality tests to identify standout traits.
Next, nurture their strengths — and their weaknesses.
While nurturing a weakness may sound counterintuitive, it's actually not. Nurture means to care for, encourage growth or aid in development.
Both strengths and weaknesses provide opportunities for employees to grow. They both provide leaders with moments to show care.
This doesn't mean you don't hold people accountable. It means you hold people in high esteem.
Personality Considerations 
Challengers are self-confident, decisive and often visionary. They want to feel in control and respected. In some situations, they can be domineering or confrontational.
Try asking these employees open-ended, rhetorical questions so they can find solutions independently. Communicate clear expectations and avoid slipping into an arguing match. 
Challenge them with a new task that utilizes some of their strengths but will help them improve their weaknesses.
Peacemakers are easygoing and agreeable. They often have difficulty fighting back, but their instincts make them valuable in many situations. 
Not speaking up can be one of their weaknesses, so encourage them to do so. They likely have hidden insights you want to hear. 
Avoid being overly critical of them — they will shut down or tune you out. Let them know what they do well so they feel seen.
4. Empower Employees By Extending New Challenges
Accomplishing something hard feels good. It builds your confidence and competency. That's why good coaches challenge their employees.
Growth doesn't happen within your comfort zone.
You should challenge your employees to grow, so give them new responsibilities and opportunities to learn — even if they might make mistakes along the way.
If they do make mistakes, be there to assist. Try not to take over the task but rather give guidance to employees on how they can improve and avoid the mistake next time.
Your goal is to help them meet their goal.
Personality Considerations 
Loyalists are hardworking, responsible and trustworthy – but can also be anxious. They sometimes run on "stress" until they can't and then "freak out."
When extending a new challenge to this employee, remind them you'll support them throughout the process.
Be willing and prepared to answer their questions frequently since they tend to overcomplicate and need clarification.
5. Focus on Collaboration
Coaching is a collaborative process. For your employees to feel engaged, they need to be involved.
Always give your insights and assistance where it's needed, but allow your team to take the lead and come up with their own creative solutions every chance you get.
Ask them about their goals, where they see themselves in five years, and how you can help. Then, make a roadmap together.
Remember, the goal of coaching is achieve great results while making a lasting impact on your employees. 
Invest your time in them to the point that you'll remember them in five years — because if you don't, they probably won't remember you.
Personality Considerations
The Individualist (Enneagram 4)
These employees are extremely creative and artistic and have a unique worldview. They can also be difficult to coach because they see themselves as different from others.
When collaborating with Individualists, make a point of asking them how they want you to coach them. They are introspective, sensitive and likely have ideas about how they want to grow.
Don't allow them to take center stage, though. Give constructive criticism — but frame it as a challenge they can undergo to find a new, better version of themselves.
Benefits of Coaching in Management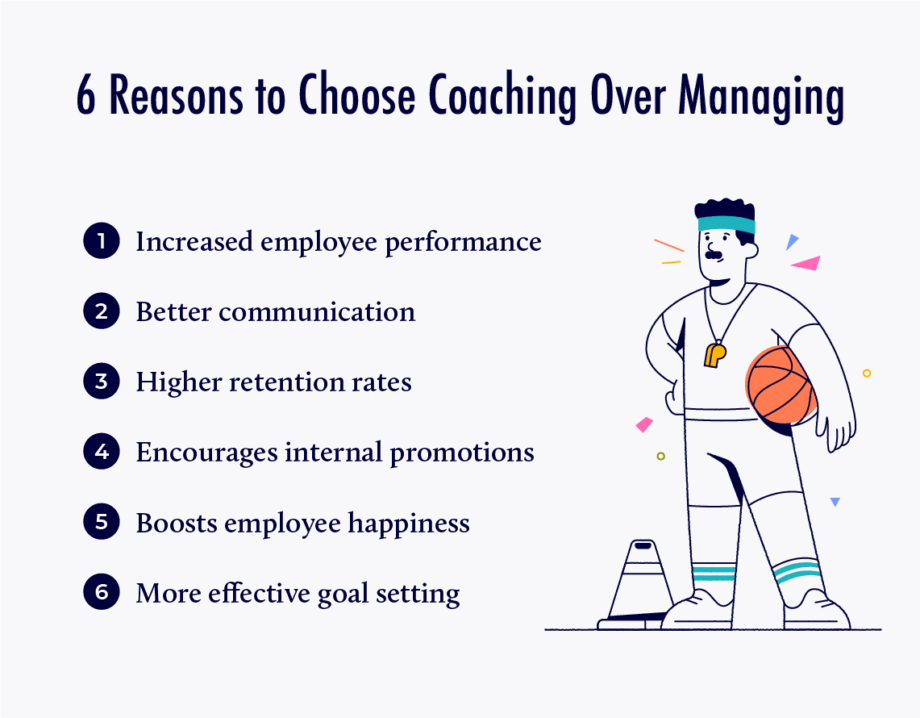 While coaching takes more time and effort than simply managing, it's certainly worth the investment. Here are some positive impacts coaching can have on your company:
Improved performance and productivity. Coaching helps employees see what they can do, which is inherently motivating. In fact, 8 in 10 employees say training increases their productivity. 
Open lines of communication. Not only does open communication make for easier project completion, but it also leads to happier employees. Nearly one-half of employees want training on communication and collaboration.   
Higher retention. Coaching reduces turnover. A study by LinkedIn Learning found that 94% of employees said they would've stayed at their company longer if it had been more invested in their learning and development.
The ability to promote from within. Promoting from within helps companies feel confident they will competently fill the role — and it increases employee happiness. I call that a win-win.
Boosting morale. Sometimes, an employee who's become less productive actually feels unseen or unimportant. A good coach can help team members feel valued so they can put their best foot forward.
Effectively set and achieve goals together. Employees are more likely to complete goals they had a part in making. Coaching encourages ownership and builds a partnership along the way. 
Great Coaches Make Great Employees
If you want to see your employees perform better and rise to the top, remember to hold yourself to that higher standard, too.
Coaching in management can help you transform your employees into great leaders — but only if you can lead yourself there first. Using these five coaching strategies effectively might take time, but I'm sure you can do it.
Here's to becoming better coaches together, 
Thomas