2021 has come and gone, and what a year it has been! I have much to share with you.
Similar to my 2020 year in review, I'll be answering the following four questions to the best of my ability:
As I spend time reflecting on another year, I want to pause and mention how grateful I am for the life I lead. I'm blessed beyond words, and I can always find something to be thankful for.
I wrote this journal entry on January 2, 2021:
Father – may 2021 be richly blessed. Humble me, make me more like you and bless the works of my hands. Grow OptinMonster and the rest of the AM product family. Make me a better leader, a wise steward, and an intentional husband & father!
By God's grace, I believe I can say this prayer was answered in 2021. My heart is full as I look back on 2021 and press on to 2022.
What went well this year?
10 Year Anniversary Trip
In September, my wife Laura and I took a 10 year anniversary trip to Maine. We both had a blast, and we have frequently recounted that it was one of the best trips we have taken. While we still weren't huge fans of lobster rolls after we left, we were raving fans of the towns and scenery.
We began our trip in Portland, spending 3 full days exploring the city while taking day trips to nearby towns.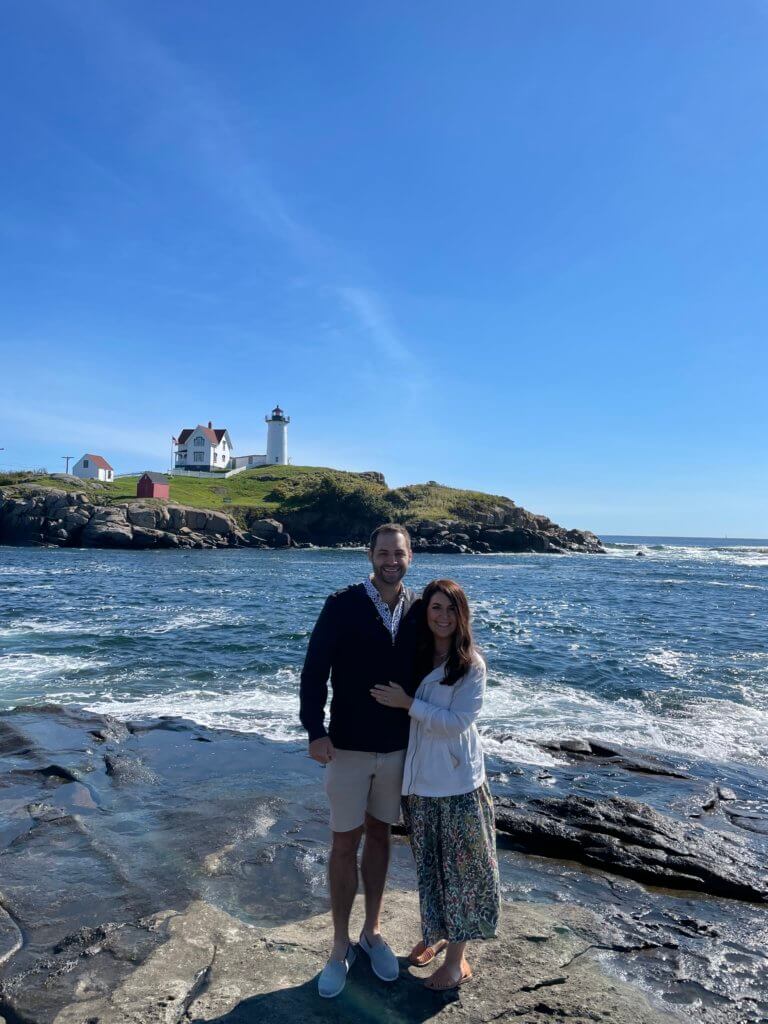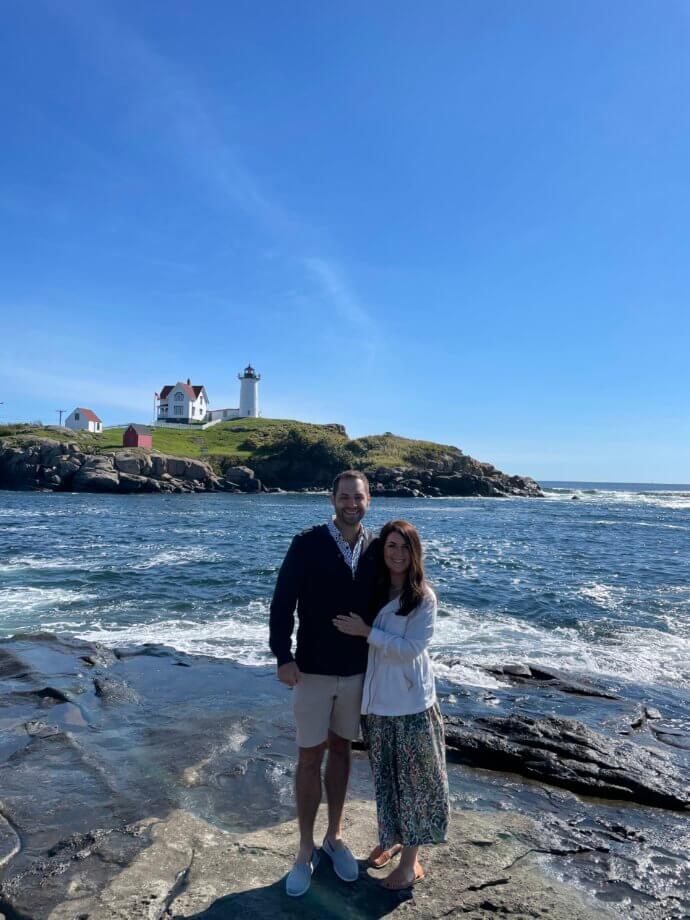 After Portland, we traveled up the coast, stopping in Rockport to visit the giant L.L. Bean store before making our way into Bar Harbor. Once in Bar Harbor, we spent time in Acadia National Park. The weather was mostly overcast during our time in the park, but a really cool (and supernatural) thing happened while we were there.
There's a walk in Acadia around a pond called Jordan Pond. It's a scenic 3.2 mile loop, and it's surrounded by beautiful mountains. As we began the walk, you could barely see what was beyond the other side of the pond. Laura was upset because she wanted to catch a glimpse of the incredible views the walk provided.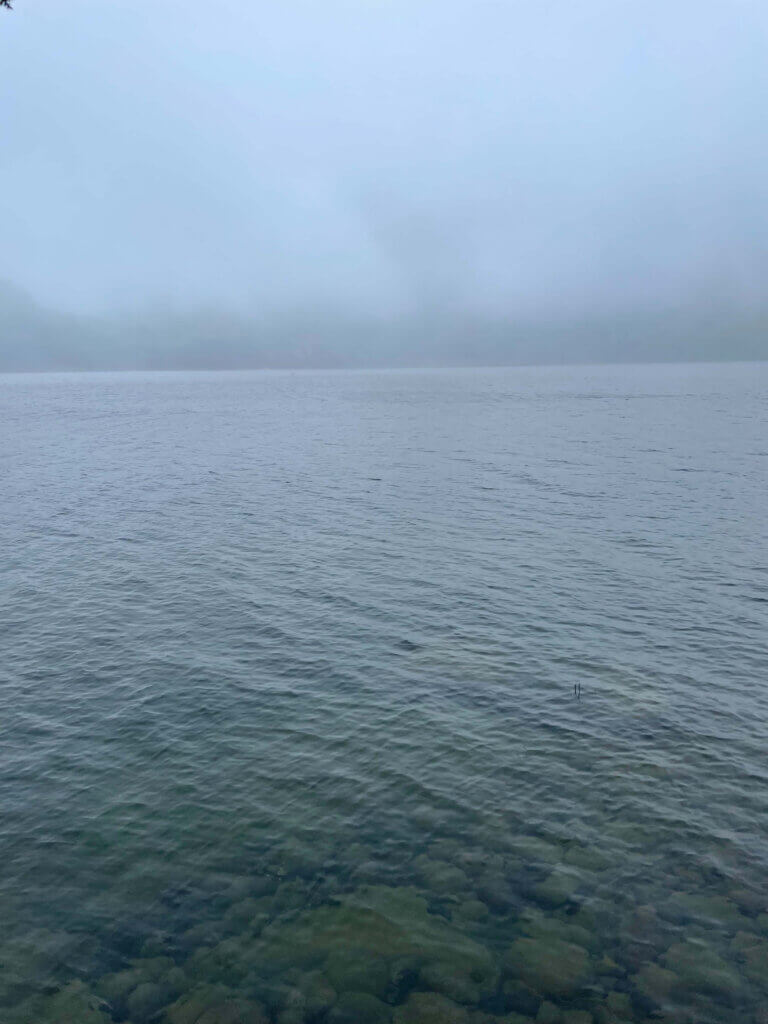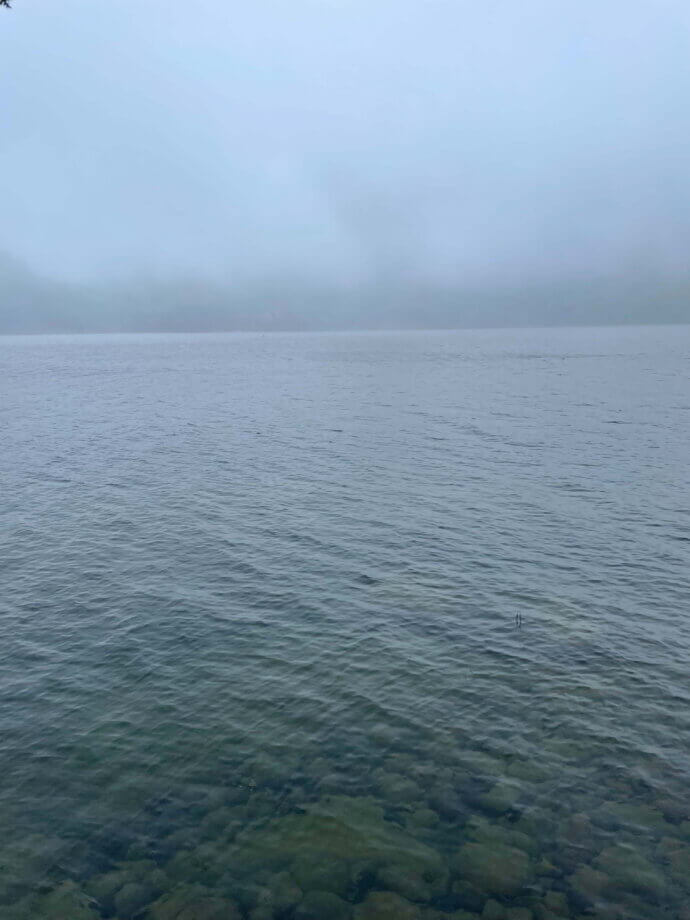 Unknown to me, she started praying as we began walking.
About halfway around the loop, we ran into a pleasant couple who were traveling up the coast from Georgia. Maine was their last stop, and after exchanging poses for pictures, we noticed the wind picking up.
As we continued on the walk, the wind grew strong. In fact, at one point, we were a nervous that we were getting caught in a bad thunderstorm. The wind nearly blew us over on more than a few occasions, and there were multiple times we had to stop and brace against the wind.
Our walking became more labored, but we began to notice a peculiar thing: the dense fog and clouds were quickly lifting. As we rounded the final half mile stretch of the hike, battered by the wind, we turned around and saw a clearing of the clouds.
I took this picture as we stood in awe of what was happening around us: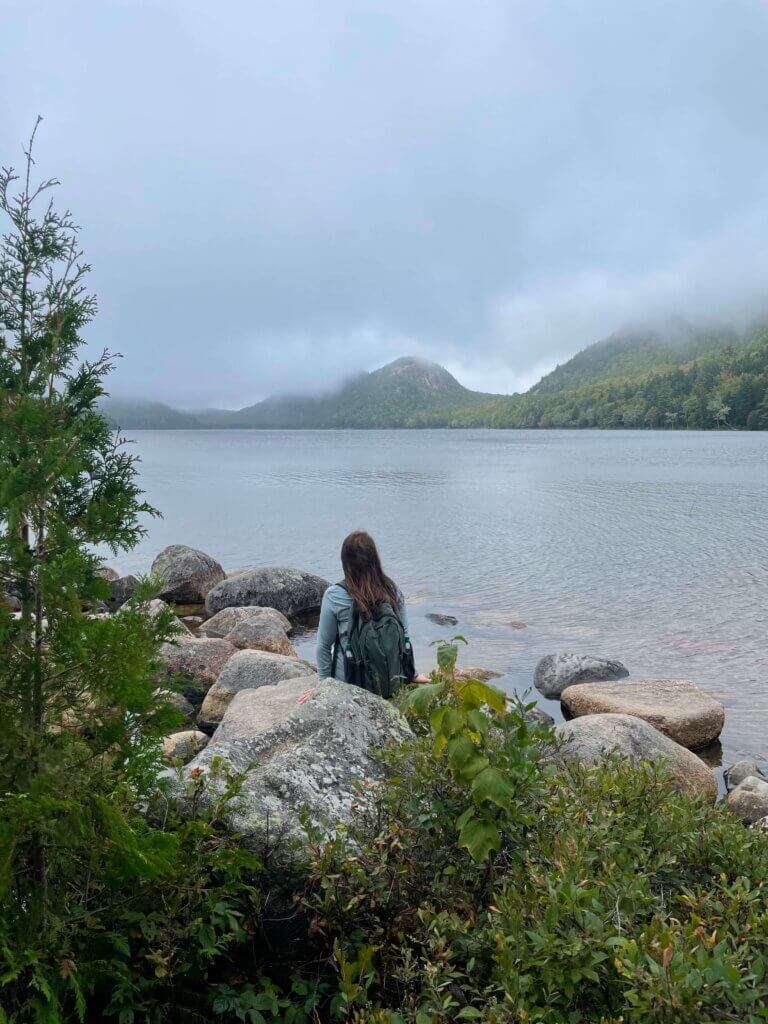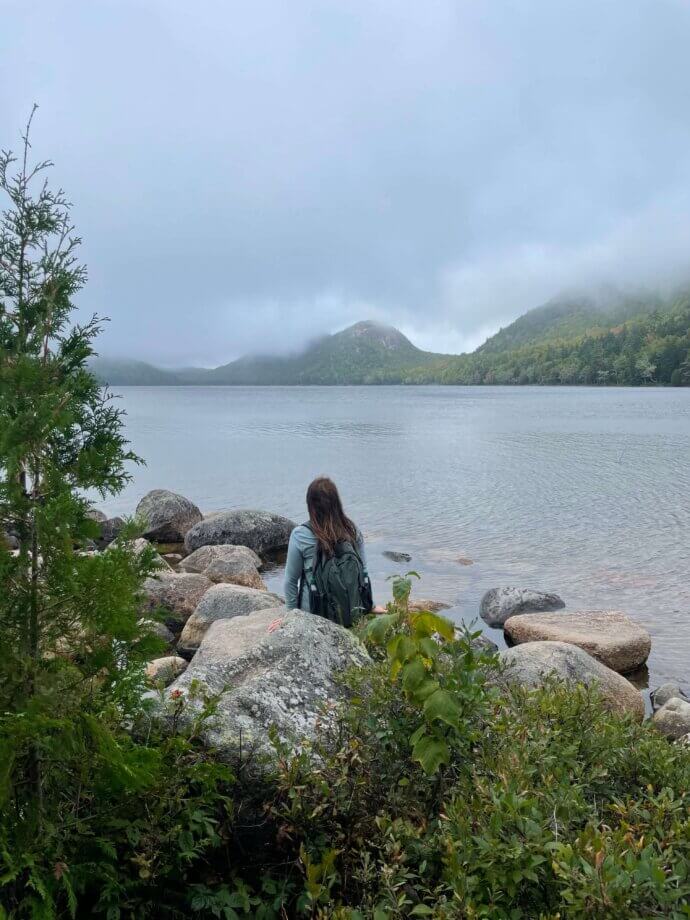 God had answered Laura's quiet prayer. It was a special moment that we both look fondly upon, not only because we experienced God's grace in this way, but also because shortly after I took the picture, the winds ceased and the clouds returned to cover the mountains once again.
We wrapped up our Acadia portion of the trip by going to Cadillac Mountain, which was so foggy you could hardly see in front of you. In fact, we were briefly lost while walking around at the top!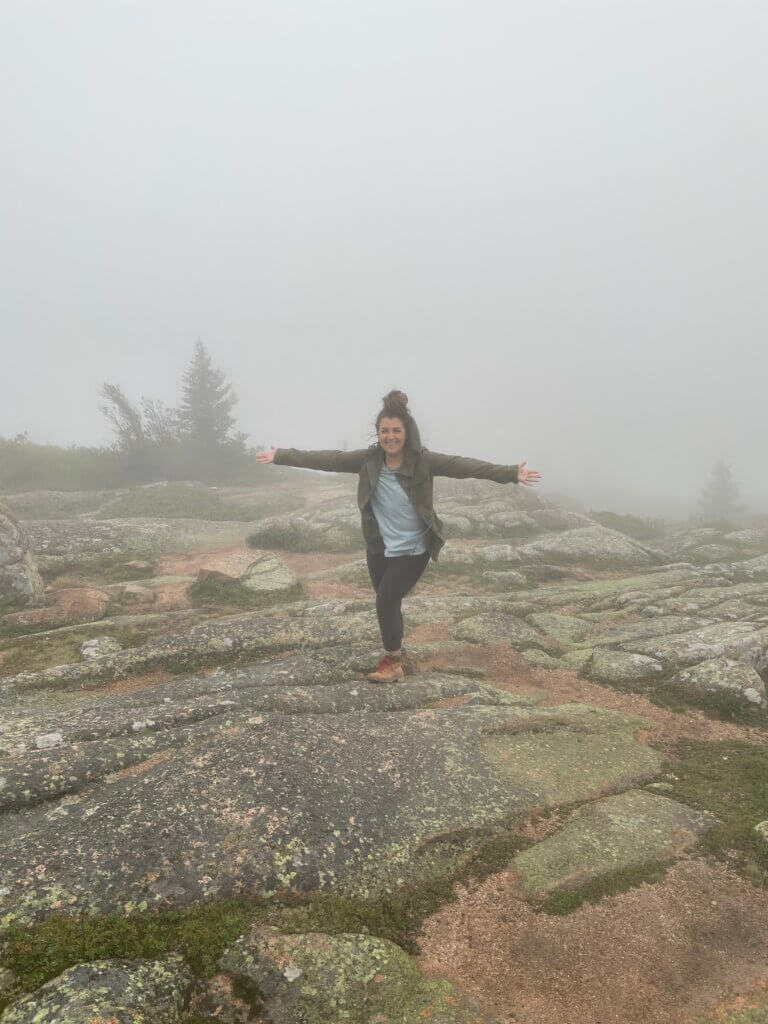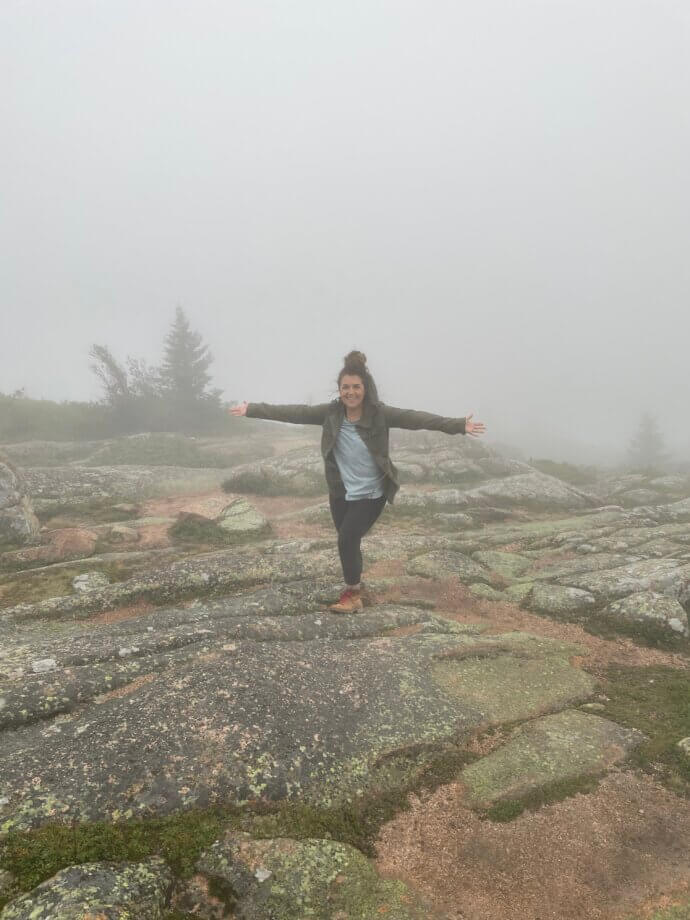 I returned home from the trip more grateful than ever to be married to my sweet wife. I love her far more now than when we got married 10 years ago, and when the next 10 years have come and gone, my desire is to say it with confidence again.
Book Reading
In 2018, I began to understand the true benefits of reading books consistently. Since then, I've made it a point to read something from a book every day.
I read 9 books this year. That's less than the 12 I read last year, but for what I lacked in number, I gained in depth.
Here's the list of books I read in 2021 (outside of the first one, in no particular order):
The Bible. This is my second time reading through the entire Bible chronologically, my first being in 2020. I wondered what it would be like reading through it again. Would I get bored? What the content be stale? I can answer with a resounding NO to each of those questions. I learned so many new things this time around, developing a more clear picture of who God is and what He is doing in the world. I'm more convinced than ever that I need to read it daily. This world is filled with fear, but I've not been given a spirit of fear – rather one of power, love and self control. I need the words of life found in the Bible every day.
Atomic Habits by James Clear. Yes, I read it again (4th time), although this time I listened to it on Audible. The simple principles embedded in the book are foundational to every day life. I need to be reminded of the power of tiny changes over a long period of time. And, I'll get to read it again in 2022, as I'm taking some leaders in my company through it during the first half of the year. If you are interested, you can read my brief book summary here →
The 7 Habits of Highly Effective People by Stephen Covey. I did not realize how much of my general worldview was distilled in this book. Many concepts that I regularly espouse, such as "Seek First to Understand, Then to be Understand", came from this book… and I didn't realize it! I read it slowly, journaling frequently as a way to better learn the paradigms. It's a must-read for anyone who wants to be effective in their life.
The Art of Learning by Joshua Waitzkin. Learning is a skill that must be developed. This book was fascinating, as it documented how one guy (the author himself) became a world champion at both chess AND martial arts. The premise is that learning is a skill, and if you understand how to become an active participant in the process, you can master anything.
A Praying Life by Paul Miller. I read this book again with the men in my T214 discipleship group. I love the simplicity with which he writes regarding prayer. We tend to make prayer a big ordeal, but in its most basic form, it's talking with God. He does a great job reminding me of this.
Discipling by Mark Dever. This short book outlines practical methods for discipling other people. I found his simple, no-nonsense approach to the subject to be compelling.
Escape from Reason by Francis Schaeffer. The world has shifted from the prevailing mindset of the ancients, "How do I fit into the world?", to the prevailing mindset of secular humanism today, "How do I fit the world to me?". Beginning from the great Greek philosophers, Schaeffer outlines the philosophical jumps that have led man to become increasingly self-centered over time and how Christians should respond to it.
The Coaching Habit by Michael Stangier. This book transformed how I approached one on one communication. It presents a cogent framework for asking the right questions that get to the heart of conversation every time.
Never Split the Difference by Chris Voss. This was my favorite read of 2021. Not only does it have incredibly interesting stories (the guy was a top international hostage negotiator), but it also contains highly tactical (and practical) ways to communicate better in any situation. His concepts and insights into mirroring, labeling and tactical empathy are pure gold.
Role Transition + Company Growth
I co-founded OptinMonster with my business partner and friend Syed Balkhi in 2013. For the last four years, I've been actively serving in the President role. Prior to this, I handled all things technical, including creating the software itself.
In February, Syed, myself and one of our other partners (Ben) took a family trip to Orlando. We hadn't seen one another in quite a while, so we all packed into a big house for the week and spent some time reconnecting. I thoroughly enjoyed it!
While there, Syed and I discussed what the future of Awesome Motive looked like. We both realized that in order to continue our growth trajectory, we needed to figure out how to empower other capable, qualified people to lead our product divisions.
As our conversations progressed about this, we determined we should start with OptinMonster. While on the trip, we put together a plan to transition me out of the day-to-day responsibilities of running OptinMonster. It included role shifts, responsibility changes, training schedules and more. And, we outlined a pretty swift timeline: this would all be done so that I would transition out by July 1.
I'm so thankful that we have incredibly smart, dedicated people who are willing to take on a challenge and step into leadership when it calls. After identifying two people to take on additional responsibility, we started the process of training and transitioning roles.
For the most part, the July 1 timeline held true. I remained in the background of OptinMonster throughout the rest of 2021, attending weekly leadership meetings and providing mentoring to the two new leaders (I will continue to do this in 2022).
They, along with the rest of the OptinMonster team, have done an incredible job stepping up and serving our customers well. I'm so proud of them for what they have accomplished, and I have no doubt that they will continue to accomplish great things in 2022 and beyond.
As for me, there's a lot of institutional knowledge that comes with co-founding a company, and that's hard to distill in a short period of time. There were many moments where I remarked, "Oh yeah, I forgot about that! Here's how…". It's natural, and I anticipate that will continue to happen over time.
Additionally, I have helped successfully onboard two of the latest acquisitions at Awesome Motive, SearchWP and the Sandhills Development family of products. I will continue onboarding and transitioning these products in 2022, devoting more time there to developing the teams, implementing our processes and identifying areas of growth for the businesses.
Awesome Motive experienced tremendous growth in 2021. We now have over 200+ full time employees across 30+ countries! Our collection of software can be found on over 19 million websites.
It's a pleasure to work alongside so many talented people across a wide variety of products. 🤩
Here are some brief company highlights from 2021:
Want to work with Syed, myself and the rest of our amazing team? We're hiring! →
I'm both excited and optimistic for what the future holds. What we have is a once in a lifetime opportunity, and I feel the positive weight of responsibly stewarding it well. As the company grows and evolves, I must continue to grow and evolve with it.
We have so many wonderful people who trust Syed and myself and the rest of the partners with their livelihoods, and I don't take that lightly or for granted. I have a duty to serve them well, and with all that I am, I will do it to the best of my ability for as long as I am here.
Daily Journaling
I've written about the power of daily journaling before.
I believe in it, and that's why in 2021, I journaled 298 out of the 365 days in the year.
My journal acts as a prayer log and reflection engine. I often switch between writing out prayers and jotting down events. Sometimes I reflect on things through prayer, like this on June 24:
Father – thank you for your kindness in giving me two free doughnuts from Krispy Kreme!
And other times I process things through reflection, like this on April 5:
I made some amateur typing errors on the hub announcement post, and that is my fault. I need to speak out loud what I am writing so that these grammatical errors don't occur in the future.
It's amazing the transformation that occurs when you identify, process and reflect on events happening in your life. Sometimes I pour my heart out in thanksgiving, and other times I pour my heart out in frustration and anger. Both are better than keeping the emotions bottled up inside.
Once you identify something, you can label it. Once it has been labeled, you can process it. Once you process it, you can reflect on it. And when you reflect on it, you have the opportunity to learn from it.
This is the art of learning in real life. This is how you become an active participant in getting better at anything.
This is why daily journaling is so important!
Fantastic Trips
COVID made travel in 2020 practically impossible. That, along with the birth of our second son Jude, meant that we didn't go anywhere after March of 2020.
In 2021, we traveled again, and we had many incredible trips!
In January, I went on a golf trip with some men from my church. We had an absolute blast, even though the first day was the coldest, windiest day of golf I've ever played in my life!
In February, we went to Orlando, FL and spent time with my business partner Syed and another partner Ben. I had a wonderful time with them. It was so good to reconnect and spend time developing those relationships.
In March, we went to our place in the mountains with some friends from our church community group. The kids were wild, the house was full of life and we loved every minute of it!
In April, Laura and I went down with another couple to Palm Beach. Why? I got to play golf with Justin Thomas! I'll share more on that later.
In June, we spent some time at the beach (Isle of Palms, SC) as a family. During the trip, my parents came down for a few days, and my in-laws came down for a few days. It was the first time we had ever rented a beach house for just our family. I also flew down to Palm Beach to do some planning with Syed and the OptinMonster leadership team before my role transition.
At the end of July into early August, we flew to Michigan to be part of a dear friend's wedding. We took the boys with us (it's the first time both of them had been on a plane), and they did about as well as you could expect a 4 and 1 year old to do on a flight! We had a blast at the wedding, and then we traveled up the Michigan coast to spend a few days in Traverse City. It is beautiful in the summer, and we want to go back again in the future.
In September, Laura and I took our 10 year anniversary trip to Maine. I've said it before, and I'll say it again here: it was a wonderful trip!
In October, Laura and I went to Kentucky with some friends to go on a bourbon trail. I had far more fun than I anticipated. I loved learning about the distillation process. And, I got to dip my own bottle of Maker's Mark in red wax!
Here are picture highlights from these trips, in no particular order: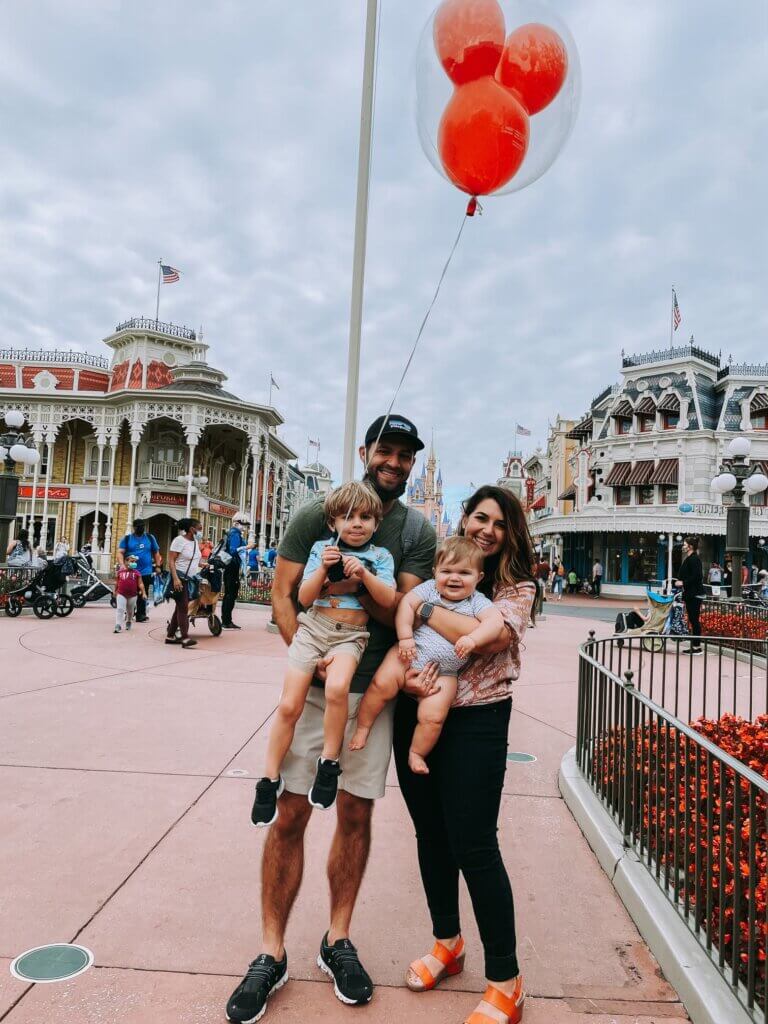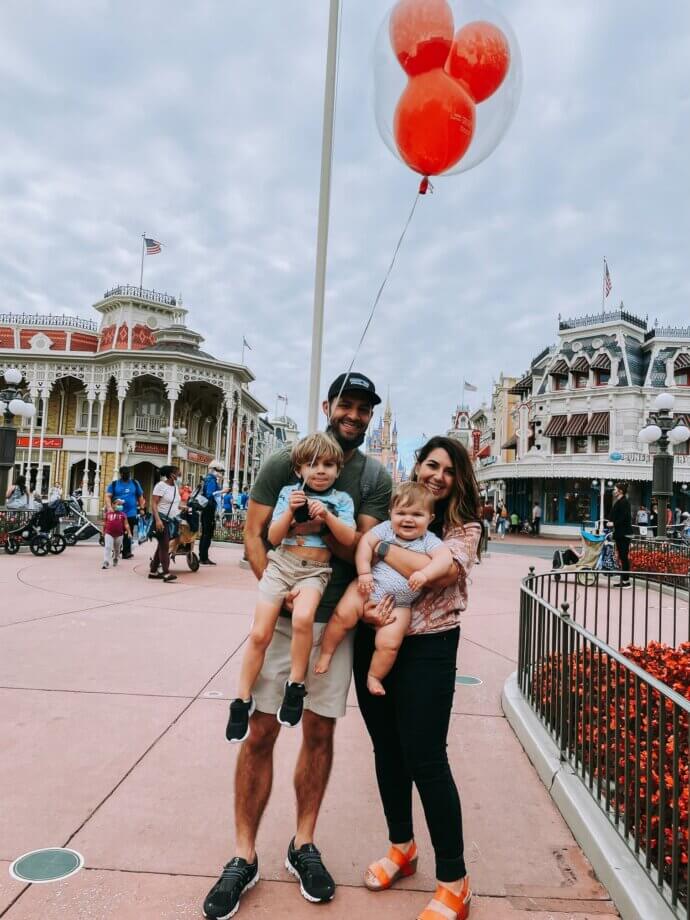 Golf Improvements (and playing with Justin Thomas)
Playing golf with two young kids is hard.
As you might expect, I didn't have the opportunity to play a lot this year. Most of the rounds I collected were in spurts, such as the January golf trip or times when Laura took the boys to the beach or mountains with her family.
In 2021, I set a goal of averaging 72 or better for all my combined golf rounds. I came so close, but I missed the mark this year. I averaged 72.46 for the year.
I had five poor rounds in the year (81, 82, 84, 82 and 83) that killed my average. Four of those rounds (all in the spring, back to back) came because of a cracked driver face.. and I didn't realize it!
I kept hitting awful duck hooks off the tee, and I was totally perplexed. It wasn't until a practice round for the Wells Fargo Championship pre-qualifier that one of the other golfers pointed it out to me. Once the driver head was replaced, my scores improved again.
Despite this momentary hiccup, my game measurably improved in 2021. I ended the year as a +4.1 handicap. Over half of my rounds were under par, and I had a stretch of 69-67-69-67-66-67. That's not half bad for an amateur golfer with two young kids and a full time job! As part of the process of improving my game and scores, I wrote a long, detailed article on how to get better at golf.
My 2021 goals and averages are below:
Score
Goal: 72
Average: 72.46
Fairways in Regulation (FIR)
Goal: 9
Average: 8.12
Greens in Regulation (GIR)
Goal: 13
Average: 11.88
Putts per Round (PPR)
Goal: 29
Average: 30.35
Penalty Strokes per Round (PSPR)
Goal: .25
Average: .59
I'm pleased with my overall performance, but I have work to do, especially with putting and eliminating penalty strokes.
The highlight of golf in 2021 was getting to play with Justin Thomas. In 2020, I won a round with both him and his dad Mike Th0mas. We played at the Bears Club in Jupiter, FL, and I had an absolute blast.
The property and course were pristine, but the company was better. Justin and Mike were down to earth, personable and surprisingly relatable. At no point during the entire day did I feel like they had somewhere better to be. In fact, I even got to eat lunch with them in the clubhouse, and then Justin simply hung out with us on the range afterward.
Despite my cracked driver head (unknown to me at the time), I played well. I expected to be more nervous than I was, but I quickly settled in after the first drive. My short game was *very* good that day, and when Justin sent me a picture after the fact, he wrote about it on the photo!
Thanks JT and Mike for making it a once in a lifetime experience that I will never forget.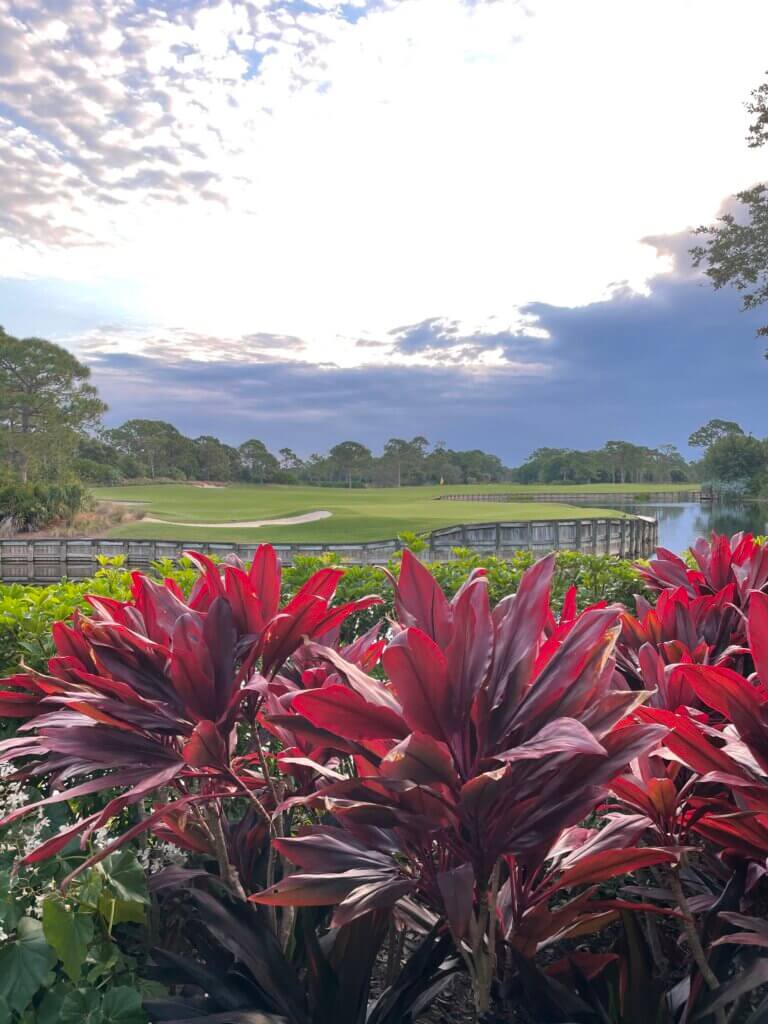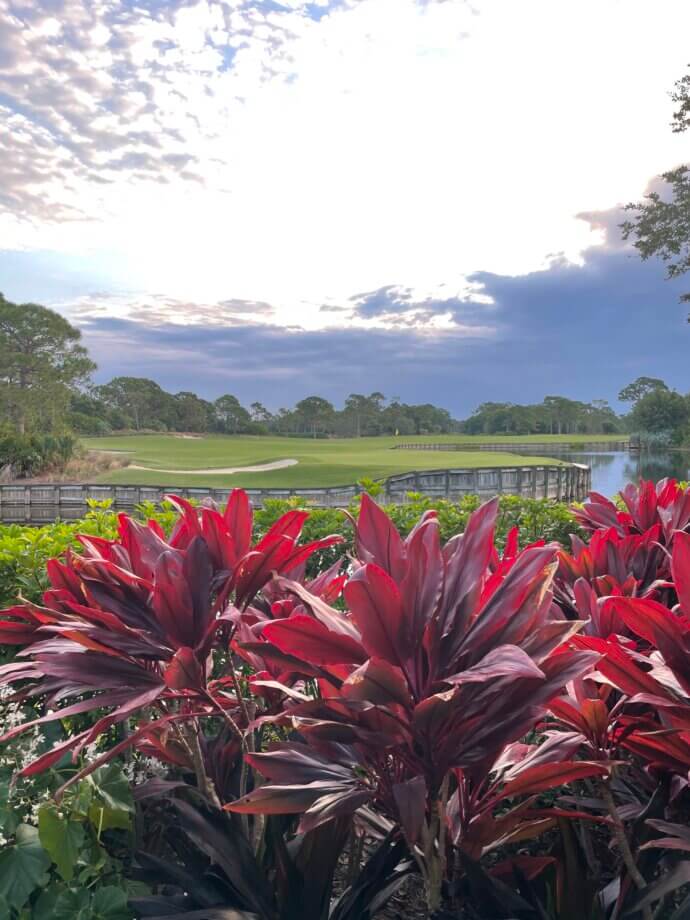 T214 Discipleship Intensive
In late December 2020, I approached four men in our church to go through a discipleship intensive together with me in 2021. I wrote out the plan, and I named it T214.
During the course of 2021, we did the following things together:
We read through the entire Bible chronologically through The Bible Recap (and listened to the accompanying podcast).
We met once per month to discuss what was happening in our lives, what we were reading/learning, where we wanted to grow as men and how we could prayer for one another.
We read A Praying Life by Paul Miller.
We developed personal and family mission statements.
We completed a community service project together for a single mom in our church.
When we began on January 1, 2021, I had no idea what the outcome might be. I knew the time would be rigorous, and I honestly was unsure if everyone would persevere until December 31. Praise and glory be to God that everyone did!
To say the process was transformative would be barely scratching the surface. It's hard to read the Bible and pray every day and not be changed. And as much as it was transformative for them, I'm sure it was more for me.
They say when you do something, you learn once; when you teach, you learn twice. I experienced that firsthand during T214. Leading by example in this way required more than I anticipated. In fact, there was no way I was able to do it in my own strength. It was God's power and strength alone that carried us all through, and I'm grateful to be a witness of those attributes on display.
During the second half of the intensive, we wrote personal and family mission statements. I had written some things out before, even things I thought were my mission. But as I devoted time to both, I began to realize what the true mission for my life and family would be.
This is now what it means to be me, Thomas Griffin:
To magnify the power of the One True God by humbly embodying clarity, simplicity and excellence in every area of my life.
And this is now what it means to part of my family, a Griffin:
To be generous and hospitable to all, opening not only our home but also our hearts, with gratitude and thanksgiving.
Codifying both of these statements has been immensely clarifying and energizing. With these constitutions in place, my family and I can make better decisions that align with our real purpose in life.
In September, I was approached about bringing T214 to my church, Exodus Church. After much discussion and preparation, we now have 80+ men in our church engaged in T214 groups, reading the Bible and praying daily with other men. May God be greatly magnified in it, and to Him be the glory alone.
Blood Pressure Mystery Solved
A couple of years ago, I went to urgent care for a bad cold. It turned out to be bronchitis, but that wasn't the real discovery. The real discovery was something else.
My blood pressure was in the 140/90 range, and that is considered high. I was genuinely surprised, because at the time I worked out 3 times per week and ate healthy. Sure, I had some stress from work, but was it that bad?
I was perplexed and unnerved, so I began to exercise more and altered my diet. I bought my own at-home blood pressure monitor. I checked it once per week, and even with these changes, my blood pressure remained stubbornly high.
It persisted into 2020, averaging in the 140/90 range. As 2020 ended and 2021 came, I became more concerned about the long term impact of this on my overall health and wellbeing. I talked to a doctor, and I balked at the idea of taking medicine, which was the recommendation if diet and lifestyle changes were not cutting it.
So at the end of summer this past year, I did extensive research and resigned to attempt one final change before going on medication. For a month straight, I would drink at least 75oz of water per day, and I would cut out deli meat entirely.
I began in the middle of August, and for the first three weeks, I didn't see any change. My blood pressure remained high, and I had the added bonus of inconvenient, frequent bathroom visits. But, on the day of our trip to the mountains for Labor Day Weekend, I took my blood pressure reading. It came back 132/83.
I was shocked! This was the first time it had been under 140/90 in more than a year!
I continued to drink my regimen of water throughout Labor Day weekend, and once I returned, I took my blood pressure reading that Tuesday morning. It read 110/71.
It has not gone above 120/80 since.
I carry a giant jug of water around with me everywhere now. It's now part of my lifestyle to drink a lot of water each day.
The good news? I know I'm healthier, and I feel healthier. Plus, my frequent headaches have all but disappeared!
What didn't go well this year?
Budgeting & Saving
In 2021, I set a goal to save 25% of my income, specifically toward retirement and diversified liquid investments. I did not meet this goal. While I did put some of my money toward those things, I put more of it into other investment opportunities.
Additionally, I did not budget well (at all) this year, and I feel the impact of it. It's interesting how this one area spills over into other aspects of my life and work, and this must be reigned in. I'll talk more about this in the section about what I want 2022 to look like.
Parenting My Kids Well
In 2020, my word of the year was patience. That was stupid. God taught me all the ways to be patient — most of them painful! 🙃
In 2021, my word of the year was refinement. I wanted to refine what I had been learning in life, including how to parent my kids. I might be more harsh with myself than necessary, but I struggled mightily all year with parenting my kids well.
My journal is littered with laments about how I failed as a parent, either by raising my voice inappropriately, directing too much attention to things rather other than them, wishing I had peace and quiet for more than 5 minutes, etc. It's a constant battle, and it often feels like a losing one.
I love my kids more than this world, and they push me to lean into Jesus more as I figure out how to raise them. I clearly need growth as a parent.
Golf Practice
While I learned much and improved my golf game over the course of 2021, my focus started slipping during practice sessions in the fall and winter. That lack of focus and discipline during practice spilt over into my rounds, and my scores suffered because of it.
I sacrificed future performance for present comfort.
If I believe I am to train and compete like a pro athlete, I must also practice like one. I did this very well the first half of the year, and the results were impressive. But as summer faded, so did my good practice habits.
It's easy to slip into patterns of poor behavior, but that is unacceptable, especially if I want to win tournaments. This subtle behavior shift reminded me of Paul's warning to Timothy in 1 Timothy 4:16:
Keep a close watch on yourself and on the teaching. Persist in this, for by so doing you will save both yourself and your hearers.

1 Timothy 4:16
I must keep a close watch on how I practice!
Undisciplined Sweet Tooth
Many ages ago, most diseases were caused by scarcity: lack of resources, food, shelter, etc.
Today, most diseases are caused by abundance: too much food, too much entertainment, etc.
Too much of a good thing turns into a bad thing, and I have to face the facts: I eat too many sweets.
Although I exercise frequently (3x or more per week) and eat healthy meals overall (no fried food / lots of greens), I eat sweets at least once per day on average.
It's simply not healthy, and I pay for it with poor sleeping, poor energy management, poor mental clarity — to name a few. I failed at getting this under control in 2021, and I have plans to scale back my intake to something more sensible.
My plan is to only eat one sweet on the days I work out, so that sweets become a reward, not a right.
Poor Bedtime Habits
I know that sleep is important. I feel it when I don't get enough of it. But knowing and doing are two very different things.
At many times over the course of 2021, I determined to be in bed by 10pm and asleep before 11pm. Nothing stuck.
Some nights I would do it, and other nights it would be 1am before I would be asleep.
It's hard to manage your energy well and be effective when your sleep is so inconsistent.
In response to this, I have ordered a Whoop band so I can better track my sleep (and workout) performance in 2022.
I like data, and I believe sleep data will open my eyes to necessary changes that need to be made to my bedtime routine.
Public Writing
I wanted to publish more in 2021, but I didn't. I only hit Publish 3 times in 2021. Here's my website traffic comparison from 2020 vs. 2021:
2020
Pageviews: 85,908
Unique Visitors: 75,895
2021
Pageviews: 91, 662
Unique Visitors: 82,003
Although I only published 3 articles, my article on how to get better at golf has continued to circulate well on social media. It has been my most shared article to date.
My most popular article by traffic was how to enable HSTS Strict Transport Security in WordPress, followed closely by the difference between a mission statement and a vision statement.
I enjoy writing. I write all the time (as evidenced by me journaling nearly 300 days this year). But most of my writing this year was done either internally or privately rather than publicly.
My goal for 2022: hit Publish at least 6 times!
What did I learn?
I (Still) Need The Bible Daily
I wrote this last year, and it is just as applicable today as it was then. I need the Bible daily.
I believe the true words of life are found in this book, and if I really believe that, why wouldn't I want to read it each day?
My relationship with the God of the Bible has continued to deepen as I experience the joy of knowing Him more and seeing how He is actively at work in the world.
I tend toward pride, but the Bible reminds me that God opposes the proud but gives grace to the humble. The Bible reminds me that I must work hard with all the strength He provides, because in doing so, I glorify Him more and myself less.
Of all the things I can do each day, reading the Bible and spending time in prayer is my most important and most life-giving discipline.
Character Above All Else
On a particular day in 2021, I had a good conversation with a dear friend. Afterward, I began to sit back and reflect on why I liked this person so much. Apart from the fact that we shared common interests, one thing came to the forefront: he kept his word.
As I began to consider other great relationships in my life, both present and past, this theme continued to resurface.
After thinking upon it more deeply, I tweeted this:
The older I get, the more I just want to be a man of my word: that I would do what I say I am going to do when I say I am going to do it, and if for some reason I cannot keep my word, I'll tell you before you tell me.

— Thomas Griffin (@jthomasgriffin) November 10, 2021
Above all else, I want to be a man of great character. The Bible calls this type of life "above reproach".
I do not want to live a public life that is incongruent with my private life. Not only is that incongruence isolating and exhausting – it is also intentionally deceitful and wicked!
Am I perfect? No, far from it. I experience that wretched duplicity more often than I'd like to admit.
But by God's grace and power in my life, I want the gulf between "who I say I am" vs. "who I am experienced to be" to always be diminishing.
Empathetic Listening and Communication are Essential
In this life, our feelings will be hurt. Somebody will let us down. Somebody will leave us out. Somebody will say harmful words.
I have observed that in most situations, this is not what does the most damage. The most damage is done by the way in which we respond to these events.
Many of the books that I read this year addressed this topic, and although I do my best to listen well, I don't always do a great job of responding well. The books The 7 Habits of Highly Effective People, The Coaching Habit and Never Split the Difference have taught me more practical ways to listen and respond to people as appropriate for the situation, even when I believe I have been wronged.
It's not enough to listen. You must listen and empathize, rightly reflecting back what you hear so that the person on the other side feels truly heard. Some people are naturally good at this. I am not, and although many times I do truly empathize, my words and body language signal otherwise. I have to consciously work hard at improving this ability.
Words are powerful. The right words bring life, and the wrong words bring death. It is so important that I learn how to control the words I use, so that my tongue would bless others more than hurt them.
Faith is a Gift
In the course of reading the Bible in 2021, I made an important discovery: faith is a gift.
Look at Ephesians 2:8:
For by grace you have been saved through faith. And this is not your own doing; it is the gift of God

Ephesians 2:8
I've known it was a gift, but there's a difference between knowing and experiencing faith as a gift. This profound discovery has made me aware how little faith I actually have and how I desperately need more of it. I find myself often praying, "Father – increase my faith".
Why? Because I literally cannot increase my own faith. It is the gift of God, and the portion that I have is that portion that has been granted to me. If I want more, I must ask for it.
What do I want 2022 to look like?
My word of the year for 2022 is faithful. I want to be a faithful man, husband, father, leader and athlete.
I have broken out my goals into the 10 different domains of life (from Michael Hyatt's LifeScore). I want to be growing in each of the following domains of life, and here's what I want that to look like in 2022:
Spiritual
Read the entire Bible chronologically. This will be my 3rd year in a row reading through the entire Bible.
Lead my T214 discipleship group throughout the entire year. I have a duty and responsibility to lead them well, and I want to see it through to completion on December 31.
Intellectual
Read 6 books cover to cover (in addition to the Bible). I want to continue to invest in my personal growth by reading books. A few that I will read this year: Principles by Ray Dalio, Atomic Habits by James Clear and The Four Agreements by Don Ruiz.
Emotional
Live into and develop the identity of being a grandmaster at listening and communicating. This will be evidenced by feedback from at least 3 different people on one of those attributes.
Physical
Run a 5k in under 30 minutes without walking. I have never attempted a 5k and want to do one this year.
Have an average ball speed of 170mph or greater with my driver. My current average is around 165mph, so I have a 5mph increase to achieve this year.
Work out 150 days out of the year. This averages 3x per week, and although I do this now, I want to maintain it in 2022.
Parental
Have Miles & Jude "special time" at least 3 times per week for 15 minutes at a time. I even purchased a special timer for Christmas to do this. I want to be truly "present" with each of them, and part of this is giving them my undivided attention for a specific portion of my day.
Social
Launch our foundation. I received all the paperwork during the fall of 2021, so I am ready to launch our foundation in 2022.
Relational
Develop two new friendships. I want to develop two new friendships this year with people that I know but have not gotten beyond the acquaintance phase.
Vocational
Train and develop leaders in my company. I have the honor of mentoring five men in our company for at least the first half of the year. I take this responsibility seriously. I want to invest in them well so that they grow and see people they lead grow as well — and experience their business units flourishing because of it.
Become a tech practitioner once again. During my role as President, I let my technical prowess fall behind. I failed to nurture and develop that skill, and I want to reverse that in 2022. I have already purchased courses and begun training once again, and I've set out some plans to rekindle that craft inside of my company in 2022.
Avocational
These are all golf related!
Average 72 or better across all my rounds of golf. I averaged 72.46 in 2021, and I want to improve upon that by at least a half a stroke in 2022.
Shoot even par or better in a competitive tournament outside of my home course. It's easy to go low at your home course with friends. Tournament conditions are different. I need to put my work to the test, and this is the standard I have set for it.
Shoot one round of -7 or better. My best round of 2022 was -6 (65 on one occasion, and 66 on another). I want to improve upon that by having at least one round of -7 or better.
Financial
Actively budget the entire year. Given that I did not budget in 2021, I want to actively budget in 2022 for the entire year. I want to reign in our finances so that we as a family can better live into our mission of being generous to all.
BONUS: My Favorite 2021 Pictures
Check out some of my favorite pictures from 2021!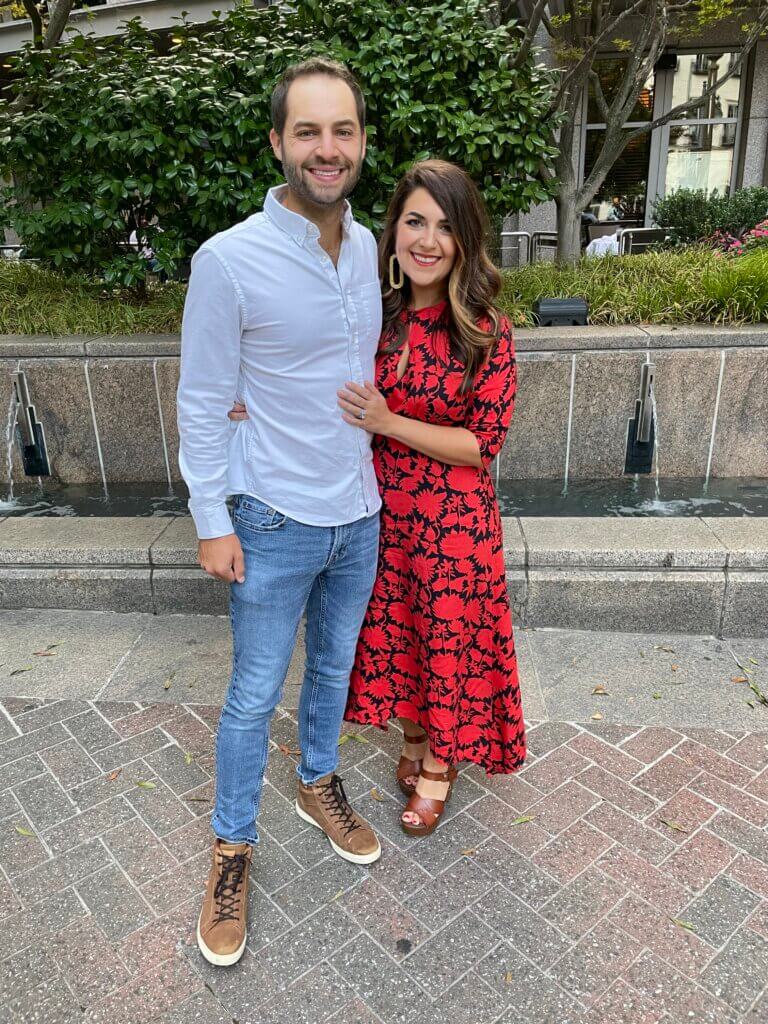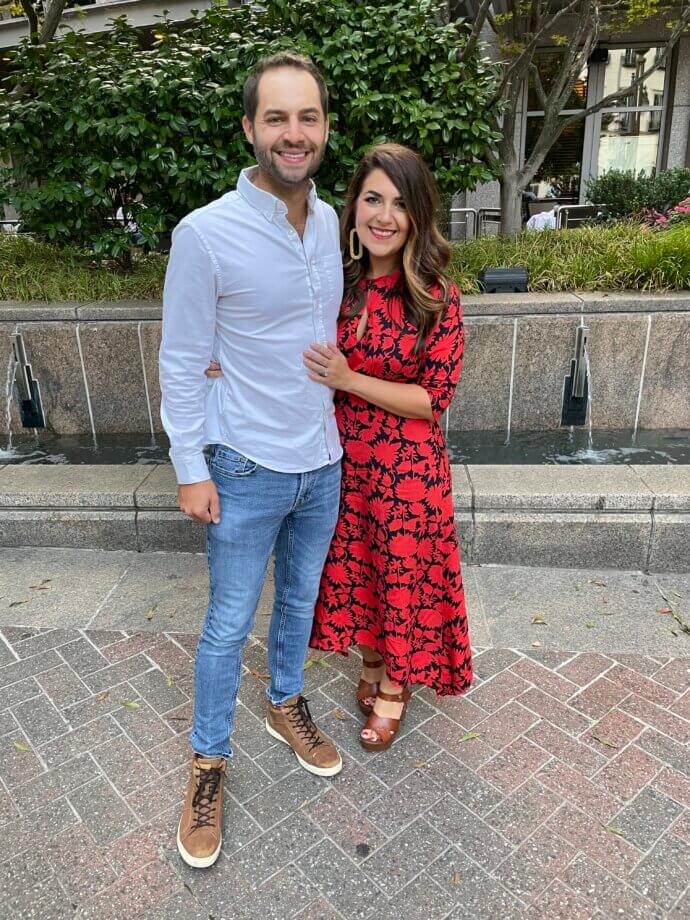 Thank you for reading my year in review. If you enjoyed it, click on one of the social buttons to share it with your friends. 😎
How was your 2021? What do you want 2022 to look like? Let me know in the comments!
To an awesome 2022,
Thomas